State Industries Worry Socialists
15th September 1950
Page 32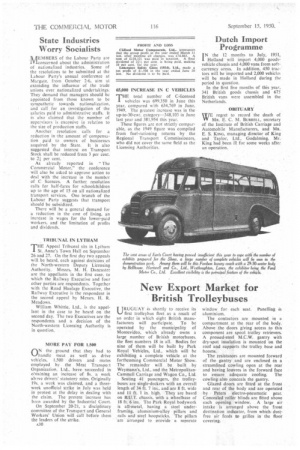 Page 32, 15th September 1950 —
State Industries Worry Socialists
Close
NAEMBERS of the Labour Party are Mconcerned about the administration of nationalized industries. Some of the resolutions to be submitted at the Labour Party's annual conference at Margate. from October 2-6, aim at extending the influence of the trade unions over nationalized undertakings. They demand that managers should be appointed from those known to be sympathetic towards nationalization. and call for an investigation of the salaries paid to administrative staffs. It is also claimed that the number of supervisors is excessive in relation to the size of production staffs.
Another resolution calls for a reduction in -the amount of compensation paid to owners of businesses acquired by the State. It is also suggested that interest on Transport Stock shall be reduced from 3 per cent. to 21 per cent.
As already reported in "The Commercial Motor," the conference will also be asked to approve action to deal with the increase in the number of C licences. A further resolution calls for half-fares for schoolchildren up to the age of 15 on all nationalized transport services. One branch of the Labour Party suggests that transport should be subsidized.
There will be a general demand for a reduction in the cost of living, an increase in wages for the lower-paid workers, and the limitation of profits and dividends.
TRIBUNAL IN LYTHAM
THE Appeal Tribunal sits in Lytham St. Anne's Town Hall on September 26 and 27. On the first day two appeals will be heard, each against decisions of the North-western Deputy Licensing Authority. Messrs. M. H. Dancaster are the appellants in the first case, to which the kailway Executive and four other parties are respondents. Together with the Road Haulage Executive, the Railway Executive is the respondent in the second appeal by Messrs. H. R. Meadows.
William Whittle, Ltd.. is the appellant in the case to be heard on the second day. The two Executives are the respondents and a decision of the North-western Licensing Authority is in question.
MORE PAY FOR 1,500
ON the ground that they had to handle meat as well as drive vehicles. 1.500 drivers and mates employed by the Meat Transpo.1 Organization. Ltd.. have succeeded in obtaining an increase of 8s. a week shave drivers' statutory rates. Originally 19s. a week was claimed, and a threeweek unofficial strike in July was held in protest at the delay in dealing with the claim. The present increase has been awarded by the Industrial Court.
On September 20-21, a disciplinary committee of the Transport and General Workers' Union will call before them the leaders of the strike.
A30