New Export Market for British Trolleybuses
15th September 1950
Page 32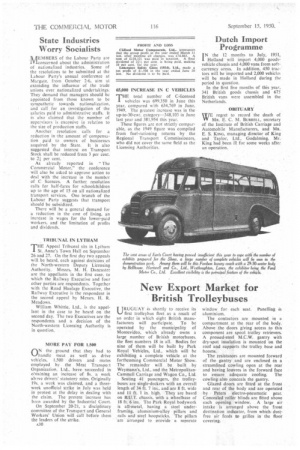 Page 32, 15th September 1950 —
New Export Market for British Trolleybuses
Close
URUGUAY is shortly to receive its %-) first trolleybus fleet as a result of an order in which eight British manufacturers will participate. To be operated by the municipality of Montevideo, which already owns a large number of British motorbuses, the fleet numbers 18 in all. Bodies for nine of them will be built by Park Royal Vehicles, Ltd., which will be exhibiting a complete vehicle at the forthcoming Commereal Motor Show. The remainder will be built by Weymann's, Ltd., and the MetropolitanCammell Carriage and Wagon Co., Ltd.
Seating 41 passengers, the trolleybuses are single-deckers with an overall length of 34 ft. 7 ins., and are 8 ft. wide and 11 ft. 1 in. high. They are based on B.U.T. chassis. with a wheelbase of 18 ft. 6 ins. The Park Royal bodywork is all-metal, having a steel underframing, aluminium-alloy pillars and rails and steel hoopsticks. The pillars are arranged to provide a separate window for each seat. Panelling is aluminium.
The contactors are mounted in a compartment at the rear of the body. Above the doors giving access to this component are spool trolley retrievers. A pressed-steel M.C.W. gantry with dry-spot insulation is mounted on the roof and supports the trolley base and booms.
The resistances are mounted forward of the gantry and are enclosed in a streamlined cowling open at the rear and having louvres in the forward face to ensure adequate cooling. The cowling also conceals the gantry.
Glazed doors are fitted at the front and rear of the body and are operated by Peters electro-pneumatic gear. Concealed roller blinds are fitted above each opening window. A large air intake is arranged above the front destination indicator, from which dustfree air feeds to grilles in the floor covering.