In it Line or Two
15th September 1950
Page 31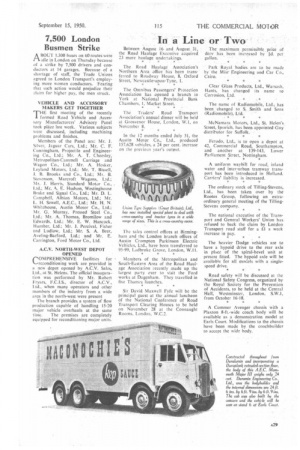 Page 31, 15th September 1950 —
In it Line or Two
Close
Between August 16 and August 31, the Road Haulage Executive acquired 23 more haulage undertakings.
The Road Haulage Association's Northern Area office has been transferred to Roadway House, 8, Oxford Street, Newcastle-upon-Tyne, I.
The Omnibus Passengers' Protection Association has _opened a branch in York at National Provincial Bank Chambers, 1, Market Street.
The Traders' Road Transport Association's annual dinner will be held at Grosvenor House, London, W.1, on November 8.
In the 12 months ended July 31, the Austin Motor Co., Ltd., produced 157.628 vehicles, a 24 per cent. increase on the previous year's output.
The sales control offices at Birmingham and the London branch offices of Austin Crompton Parkinson Electric Vehicles, Ltd., have been transferred to 9.5-99, Ladbroke Grove, London, W.11.
Members of the Metropolitan and South-Eastern Area of the Road Haulage Association recently made up the largest party ever to visit the Ford works at Dagenham. They travelled in five Thames launches.
Sir David Maxwell Fyfe will be the principal guest at the annual luncheon of the National Cortference of Road Transport Clearing Houses to be held on November 28 at the Connaught Rooms, London, W.C.2.
The maximum permissible .price of dery has been increased by id. per
gallon. "
• Park RoyaL bodies are to be made by the Misr Engineering and Car Co.,
Cairo.
Clear Glass Products, Ltd., Warsash, Hants, has changed its name to Corrosion, Ltd.
The name of Radiomobile, Ltd.; has been changed to S. Smith and Sons (Radiomobile), Ltd. • McNamara. Motors, Ltd., St. Helen's Street, Ipswich. has been appointed Guy distributor for Suffolk.
• Ferodo, Ltd., is to open a depot at 42, Commercial Road, Southampton, and another at 139-143, Lower Parliament Street, Nottingham.
A uniform waybill for road, inland water and inter-urban tramway transport has been introduced in Holland. Carriers' liability is increased.
The ordinary stock of Tilling-Stevens, Ltd., has been taken over by the Rootea Group, following an extraordinary general meeting of the TillingStevens company.
The national executive of the Transport and General Workers' Union has refused to back the claim by London Transport road staff for a El a week increase in pay.
The heavier Dodge vehicles are to have a hypoid drive to the rear axle in place of the spiral-bevel unit at present fitted. The hypoid axle will he available for all models with a single speed drive.
Road safety will be discussed at the National Safety Congress, organized by the Royal Society for the Prevention of Accidents, to be held at the Central Hall, Westminster, London, S.W.1, from October 16-18.
A Commer Avenger chassis with a Piaxton 8-ft.-wide coach body will be available as a demonstration model at Earls Court. Modifications to the chassis have been made by the coach builder to accept the wide body.