7,500 London Busmen Strike
15th September 1950
Page 31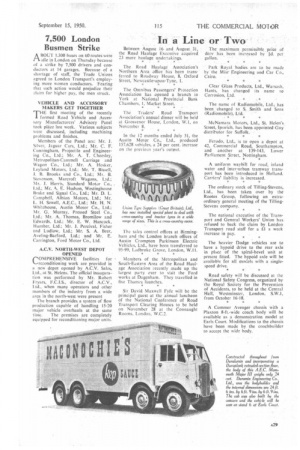 Page 31, 15th September 1950 —
7,500 London Busmen Strike
Close
Keywords :
ABOUT 1,300 buses on 60 routes were idle in London on Thursday because of a strike by 7,500 drivers and conductors at 14 garages. Because of a shortage of staff, the Trade Unions agreed to London Transport's employing more women conductors. Fearing that such action would prejudice their claim for higher pay, the men struck.
VEHICLE AND ACCESSORY MAKERS GET TOGETHER
THE first meeting of the recently formed Road Vehicle and Accessory Manufacturers Advisory Panel took place last week. Various subjects were discussed, including machining problems and finishes.
Members of the Panel are: Mr. J. Silver, Jaguar Cars, Ltd.; Mr. C. F. Cunningham, Projectile and Engineering Co., Ltd.; Mr. A. T. Cheesley, Metropolitan-Cammell Carriage and Wagon Co., Ltd.; Mr. A. Hosker, Leyland Motors, Ltd.: Mr. T. Bissell, 3.B Brooks and Co., Ltd.; Mr. B. Stevenson, Marcroft Wagons, Ltd.; Mr. I. Harris, Standard Motor Co., Ltd.; Mr. A.. E. Hudson, Westinghouse Brake and Signal Co., Ltd.; Mr. D. L. Campbell, Albion Motors, Ltd.; Mr. L. H. Sewell, A.E.C., Ltd.; Mr. H. N. Whitehouse, Austin Motor Co., Ltd.; Mr. G. Murray. Pressed Steel Co., Ltd.; Mr. A. Thomas, Bromilow and Edwards. Ltd.; Mr. E. W. Hancock, Humber. Ltd.; Mr. J. Percival, Fisher and Ludlow, Ltd.; Mr. S. A. Beer, Aveling-Barford, Ltd.; and Mr. E. Carrington, Ford Motor Co., Ltd.
A.C.V. NORTH-WEST DEPOT OPENED COMPREHENSIVE facilities for k•--reconditioning work are provided in a new depot opened by A.C.V. Sales, Ltd., at St. Helens. The official inauguration was performed by Mr. Robert Fryars, F.C.1.S., director of A.C.V., Ltd., when many operators and other members of the industry from a wide area in the north-west were present The branch provides a system of flow production capable of handling 15-20 major vehicle overhauls at the same time. The premises are completely equipped for reconditioning major units.