Men in the News
15th September 1950
Page 30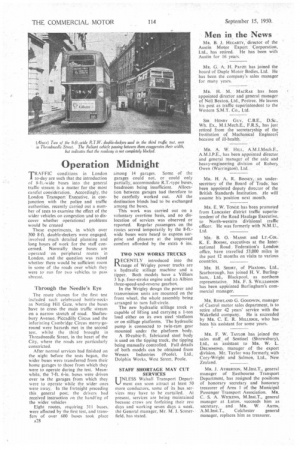 Page 30, 15th September 1950 —
Men in the News
Close
ME, B. J. HEGARry, director of the Austin Motor Export. Corporation, Ltd., has retirecL He has been with Austin for 16 years.
MR. G. A. H. PAYZE has joined the board of Duple Motor Bodies, Ltd. He has been the company's sales manager for many years.
MR. H. M. M AC RAE has been appointed director and general manager of Neil Beaton, Ltd., Portree. He leaves his post as traffic superintendent to the Western S.M.T. Co., Ltd.
SIR HENRY GUY, C.B.E., D.Sc., Wh. gx., M.1.Mech.E., F.R.S., has just retired from the secretaryship of the Institution of Mechanical Engineers because of ill-health.
MR. A. W. Hitt A.M.I.Mech.E., A.M.I.P.E., has been appointed director and general manager of the axle and heavy-engineering division of Rubery Owen (Warrington). Ltd.
MR. H. A. R. BINNEY, an undersecretary of the Board of Trade, has been appointed deputy director of the British Standards Institution. He will assume his position next month.
MR. E. W. TONGE has been promoted from Lancaster district traffic superintendent of the Road Haulage Executive, to North-western divisional traffic officer. He was formerly with N.M.U., Ltd.
MR. B. 0. MASSE and LT.-Cot. K. E. BOOME, executives at the International koad. Federation's London office, have travelled 53,000 miles in the past 12 months on visits to various countries.
MR. H. SHORT, of Plaxtons, Ltd., Scarborough, has joined H. V. Burlingham. Ltd., Blackpool, as northern representative. Ma_ F. S. WILLIAMSON has been appointed Burlingham's commercial manager.
MR. ROWLAND G. GOODWIN, manager of Castrol motor sales department, is to retire after 42 years' service with the Wakefield company. He is succeeded by MR. C. E. R. MILLIDGE, who has been his assistant for some years.
MR. F. W. TAYLOR has joined the sales staff of Sentinel (Shrewsbury), Ltd.. as assistant to MR. W. L. DRUMMOND, manager of the export division. Mr. Taylor was formerly, with Cory-Wright and Salmon, Ltd., New Zealand.
MR. J. Al HERTON, M.Inst.T., general manager of Eastbourne Transport Department, has resigned the positions of honorary secretary and honorary treasurer of Area 1 of the Municipal Passenger Transport Association. MR. C. S. A. WICKENS, M.Inst.T., general manager at Luton, succeeds him as secretary, and MR. W Asmu,
A.M.Inst.T., Colchester general manager, replaces him as treasurer.
Tags
People
:
H. M. M AC RAE
,
HENRY GUY
,
A. R. BINNEY
,
H. SHORT
,
F. W. TAYLOR
,
E. W. TONGE
,
A. H. PAYZE
,
ROWLAND G. GOODWIN
,
V. Burlingham
,
W. L. DRUMMOND
,
A. W. Hitt
,
E. R. MILLIDGE