Test Case on Many More Coach Fares: Applications
15th September 1950
Page 29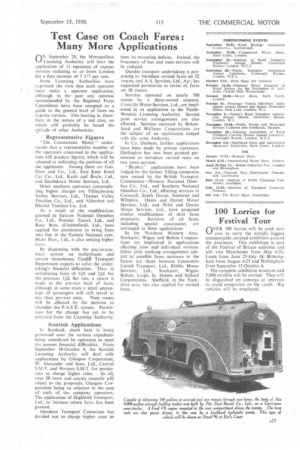 Page 29, 15th September 1950 —
Test Case on Many More Coach Fares: Applications
Close
nN September 26, the Metropolitan
Licensing Authority will hear the application of II operators of express services radiating to or from London for a fare increase of 7 1/7 per cent.
Some Licensing Authorities have expressed the view that each operator must make a separate application, although in the past any increase recommended by the Regional Fares Committees nave been accepted as a guide to the general level of fares on express services. This hearing is, therefore, in the nature of a test case, on which will probably be based the altitude of other Authorities.
Representative Figures
The Commercial Motor" understands that a representative number of the operators concerned in the application will produce figures, which will be adopted as indicating the position of all the applicants. Among them are Geo. Ewer and Co., Ltd., East Kent Road Car Co., Ltd., Keith and Boyle, Ltd., and Southdown Motor Services, Ltd.
Other southern operators contemplating higher charges are Tillingbourne Valley Services, Ltd., Thames Valley Traction Co" Ltd., and Aldershot and District Traction Co.. Ltd.
As a result of the modifications granted to Eastern National Omnibus Co., Ltd., Premier Travel, Ltd., and Rose Bros. (Chelmsford), Ltd., have applied for permission to bring fares into line in the Eastern National area. Hicks Bros., Ltd., is also seeking higher fares.
By dispensing with the pay-as-youenter system on trolleyhuses and certain motorbuses, Cardiff Transport Department expects to solve the Undertaking's financial difficulties. Thus, in substituting fares of lid. and 21d. for the previous 11d. flat rate, a return is made to the pre-war level of fares, although in some cases a small percentage of passengers will still travel at less than pre-war rates. Nine routes will be affected by the decision to abandon the P.A.Y.E. system. Permission for the change has yet to be obtained from the Licensing Authority.
Scottish Applications,
In Scotland, much heat is being generated over the various expedients being considered by operators to meet the present financial difficulties. From September 18-October 4, the Scottish Licensing Authority will deal with applications by Glasgow Corporation, W. Alexander and Sons, Ltd., Central SALT. and Western S.M.T. for permis sion to charge higher rates. In all, over 30 town and county councils will object to the proposals, Glasgow Corporation being an objector in the case of each of the company operators. The application of Highland Transport, Ltd., to increase return fares has been granted.
Aberdeen Transport Committee has decided not to charge higher rates to meet its mourning deficits. Instead, the frequency of bus and tram services will be reduced.
Dundee transport undertaking is proposing to introduce revised fares on 22 routes, and A. A. Services, Ltd., Ayr, has requested permission to revise its fares on 10 routes.
Services operated on nearly 700 routes by a State-owned concern, Crosvilie Motor Services, Ltd., are implicated in an application to the NorthWestern Licensing Authority. Several joint service arrangements are also affected. Services operated by Birkenhead and Wallasey Corporations are the subject of an application lodged with the same Authority.
In Co. Durham, further applications have been made by private operators. Darlington has now been granted permission to introduce revised rates on two town services. " Blanket" applications have been lodged by the former Tilling companies now owned by the British Transport Commission—Western National Omnibus Co., Ltd., and Southern National Omnibus Co., Ltd., affecting services in Cornwall, South Devon, Somerset and Wiltshire. Hants and Dorset Motor Services, Ltd., and Wilts and Dorset Motor Services. Ltd.. have proposed similar modifications of their fares structures. Revision of all fares. including special concessions, are envisaged in these applications la the Northern Western Area. Stockport. Wigan and Bolton Corporations are implicated in applications affecting joint and individual services. Other joint working arrangements subject to possible fares increases in the future are those between Lancashire United Transport, Ltd., Ribble Motor Services, Ltd., Stockport, Wigan, Bolton. Leigh, St. Helens and Salford Corporations. Sheffield, in the Yorkshire area, has also applied for revised fares.