rvicing and ding ramp
15th October 1971
Page 63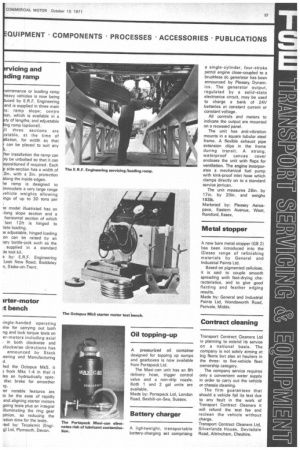 Page 63, 15th October 1971 —
rvicing and ding ramp
Close
amtenance or loading ramp heavy vehicles is now being weed by E.R.F. Engineering and is supplied in three main s: ramp slope; centre ion, which is available in a ty of lengths; and adjustable ing ramp (optional).
II three sections are stable, at the time of Ilation, for width so that can be placed to suit any fter installation the ramp can ly be unbolted so that it can epositioned if required. Each • side-section has a width of 3in, with a 3in. protection along the inside edges.
He ramp is designed to )mmodate a very large range vehicle weights allowing ings of up to 30 tons per le model illustrated has an -long slope section and a horizontal section of which last 12ft is hinged to tate loading.
le adjustable, hinged loading on can be raised by an iary bottle-jack such as the supplied in a standard ;le tool kit.
by: E.R.F. Engineering Leek New Road, Baddeley n, Stoke-on-Trent.