profit from learning
15th October 1971
Page 62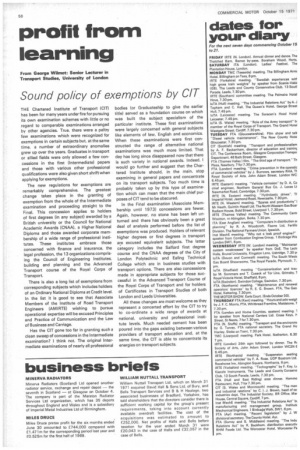 Page 62, 15th October 1971 —
profit from learning
Close
From George Wilmot: Senior Lecturer in Transport Studies, University of London
Sound policy of exemptions by CIT
THE Chartered Institute of Transport (CIT) has been for many years under fire for pursuing its own examination schemes with little or no regard to comparable examinations arranged by other agencies. True, there were a paltry few examinations which were recognized for exemptions in certain subjects but, at the same time, a number of extraordinary anomalies grew up over the years. Graduates in transport or allied fields were only allowed a few concessions in the first (Intermediate) papers and those with various other professional qualifications were also given short shrift when applying for exemptions.
The new regulations for exemptions are remarkably comprehensive. The greatest change takes place in the granting of exemption from the whole of the Intermediate examination and proceeding straight to the Final. This concession applies to holders of first degrees (in any subject) awarded by a British university or the Council for National Academic Awards (CNAA), a Higher National Diploma and those awarded corporate membership of a wide range of professional institutes. These institutes embrace those concerned with finance and insurance, the legal profession, the 13 organizations comprising the Council of Engineering Institutes, building and planning and the Advanced Transport course of the Royal Corps of Transport.
There is also a long list of exemptions from corresponding subjects which includes holders of an Ordinary National Diploma at Credit level. In the list it is good to see that Associate Members of the Institute of Road Transport Engineers (AM IRTE) wishing to pursue operational expertise will be excused Principles and Practice of Communication and the Law of Business and Carriage.
Has the CIT gone too far in granting such a clean sweep of concessions in the Intermediate examination? I think not. The original Intermediate examinations of nearly all professional bodies (or Graduateship to give the earlier title) served as a foundation course on which was built the subject specialism of the particular institute. These first examinations were largely concerned with general subjects like elements of law, English and economics. When these examinations were first constructed the range of alternative national examinations was much more limited. That day has long since disappeared now that there is such variety in national awards. Indeed, I would go further and suggest that the Chartered Institute should, in the main, stop examining in general papers and concentrate on its transport subjects. Too much time is probably taken up by this type of examination which can mean that the main chief purposes of CIT tend to be obscured.
In the Final examination (Associate Membership until 1973) concessions are fewer. Again, however, no stone has been left unturned and there has obviously been a great deal of analysis performed before the list of exemptions was produced. Holders of relevant higher degrees or first degrees in transport are excused equivalent subjects. The latter category includes the Salford first degree course and the CNAA degrees of the City of London Polytechnic and Ealing Technical College which are in business studies with transport options. There are also concessions made in appropriate subjects for those successful in the Advanced Transport Course of the Royal Corps of Transport and for holders of Certificates in Transport Studies of both London and Leeds Universities.
All these changes are most welcome as they represent a concerted effort by the CIT to try to co-ordinate a wide range of awards at national, university and professional institute levels. Much needed cement has been poured into the gaps existing between various providers of transport education and, at the same time, the CIT is able to concentrate its energies on transport subjects.