n I understand that there are special
15th October 1971
Page 56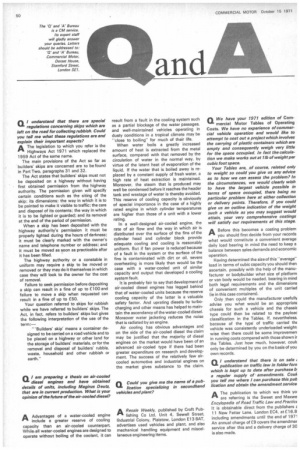 Page 56, 15th October 1971 —
n I understand that there are special
Close
regulations concerning skips which are left on the road for collecting rubbish. Could you tell me what these regulations are and explain their important aspects?
AThe legislation to which you refer is the Highways Act 1971 which replaced the 1959 Act of the same name.
The main provisions of the Act so far as builders' skips are concerned are to be found in Part Two, paragraphs 31 and 32.
The Act states that builders' skips must not be deposited on a highway without having first obtained permission from the highway authority. The permission given will specify certain conditions such as the siting of the skip; its dimensions; the way in which it is to be painted to make it visible to traffic: the care and disposal of its contents: the way in which it is to be lighted or guarded; and its removal at the end of the period of permission.
When a skip has been deposited with the highway authority's permission it must be properly lighted during the hours of darkness; it must be clearly marked with the owner's name and telephone number or address; and it must be moved as soon as practicable after it has been filled.
The highway authority or a constable in uniform may require a skip to be moved or removed or they may do it themselves in which case they will look to the owner for the cost of removal.
Failure to seek permission before depositing a skip can result in a fine of up to E100 and failure to move a skip when requested can result in a fine of up to £50.
Your question referred to skips for rubbish while we have referred to builders' skips. The Act, in fact, refers to builders' skips but gives the following interpretation of the use of the term:— — Builders' skip' means a container designed to be carried on a road vehicle and to be placed on a highway or other land for the storage of builders' materials, or for the removal and disposal of builders' rubble, waste, household and other rubbish or earth."