meet
15th October 1971
Page 55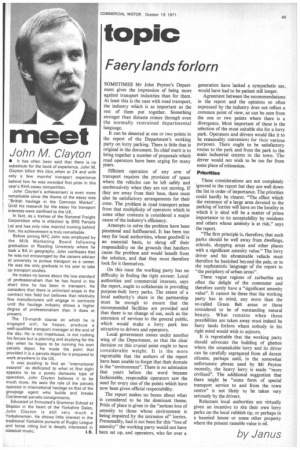 Page 55, 15th October 1971 —
meet
Close
John M. Clayton
• It has often been said that there is no substitute for the book of experience. John M. Clayton killed this idea when at 24 and with only .a few months transport experience behind him he was awarded first prize in this year's RI-IA essay competition.
John Clayton's achievement is even more remarkable since the theme of the essay was "British haulage in the Common Market". Until his research for the essay his transport interests were confined to the UK.
In fact, as a trainee of the National Freight Corporation who is attached tp BRS Parcels Ltd and has only nine month g training behind him, his achievement is truly remarkable.
Before joining NFC John was employed by the Milk Marketing Board following graduation at Reading University where he took a BA in geography. John confesses that he was not encouraged by the careers advisor at university to pursue transport as a career. He was the only graduate in his year to take up transport studies.
He makes no bones about the low standard of professionalism that he has found in the short time he has been in transport. He considers that there is unlimited scope in the contract hire field but believes that relatively few manufacturers will engage in contracts until the haulage industry shows a higher degree of professionalism than it does at present.
The 15-month course on which he is engaged will, he hopes, produce a welkiqualified transport manager at the end of the day. He is not impetuous, is not rushing his fences but is planning and studying for the day when he hopes to be running his own parcels depot. He made the point that provided it is a parcels depot he is prepared to work anywhere in the UK.
It was puzzling to find an "international essayist" so dedicated to what at first sight appears to be a purely domestic type of operation. John Clayton believes it to be much more. He sees the role of the parcels operator in international haulage as that of the groupage agent who builds and breaks Continental parcels consignments.
Educated at Ermysted's Grammar School at Skipton in the heart of the Yorkshire Dales, John Clayton is still very much a Yorkshireman, He shows little interest in the traditional Yorkshire pursuits of Rugby League and horse riding but is deeply interested in classical music.