LA's penalty was 'on
15th October 1971
Page 34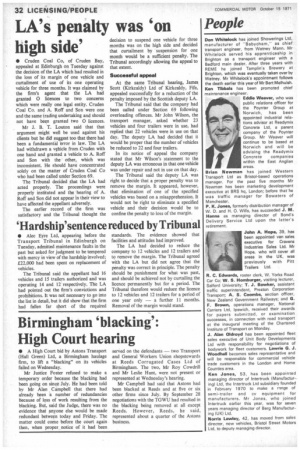 Page 34, 15th October 1971 —
LA's penalty was 'on
Close
• Cruden Coal Co, of Cruden Bay, appealed at Edinburgh on Tuesday against the decision of the LA which had resulted in the loss of its margin of one vehicle and curtailment of use of its one operating vehicle for three months. It was claimed by the firm's agent that the LA had granted 0 licences to two concerns which were really one legal entity. Cruden Coal Co. and A. Roff and Son were one and the same trading undertaking and should not have been granted two 0 licences.
Mr J. B. T. Louton said that that argument might well be used against his clients but he did suggest too that there had been a fundamental error in law. The LA had withdrawn a vehicle from Cruden with one hand and granted a vehicle to A. Roff and Son with the other, which was inconsistent. He should have concentrated solely on the matter of Cruden Coal Co who had been called under Section 69.
The Tribunal decided that the LA had acted properly. The proceedings were properly instituted and the hearing of A. Roff and Son did not appear in their view to have affected the appellant adversely.
The earlier record of the firm was satisfactory and the Tribunal thought the decision to suspend one vehicle for three months was on the high side and decided that curtailment by suspension for one month would be a sufficient penalty. The Tribunal accordingly allowing the appeal to that extent.
Successful appeal At the same Tribunal hearing, James Scott (Kirkcaldy) Ltd of Kirkcaldy, Fife, appealed successfully for a reduction of the penalty imposed by the Scottish deputy LA.
The Tribunal said that the company had been c.alled under Section 69 following overloading offences. Mr John Wilson, the transport manager, asked whether 23 vehicles and four trailers were in use, had replied that 22 vehicles were in use on that day. The deputy LA had decided that it would be proper that the number of vehicles be reduced to 22 and four trailers.
In its notice of appeal the company stated that Mr Wilson's statement to the deputy LA was erroneous in that one vehicle was under repair and not in use on that day.
The Tribunal said the deputy LA was right to decide that a proper penalty was to remove the margin. It, appeared, however. that elimination of one of the specified vehicles was based on a misapprehension. It would not be right to eliminate a specified vehicle and their decision would be to confine the penalty to loss of the margin.