Ilardship'sentence reduced by Tribunal
15th October 1971
Page 34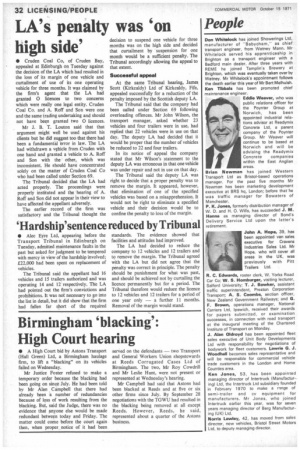 Page 34, 15th October 1971 —
Ilardship'sentence reduced by Tribunal
Close
• Alec Eyre Ltd, appearing before the Transport Tribunal in Edinburgh on Tuesday, admitted maintenance faults in the past but asked for judgment to be tempered with mercy in view of the hardship involved; £22,000 had been spent on replacement of vehicles.
The Tribunal said the appellant had 16 vehicles and 15 trailers authorized and was operating 14 and 12 respectively. The LA had pointed out the firm's convictions and prohibitions. It was not necessary to go into the list in detail, but it did show that the firm had fallen far short of the required standards. The evidence showed that facilities and attitudes had improved.
The LA had decided to reduce the company to 12 vehicles and 12 trailers and to remove the margin. The Tribunal agreed with the LA but did not agree that the penalty was correct in principle. The penalty should be punishment for what was past. and should be achieved not by curtailing the licence permanently but for a period. The Tribunal therefore would reduce the licence to 12 vehicles and 12 trailers for a period of one year only — a further 11 months. Removal of the margin would stand.