Birmingham 'blacking': High Court hearing
15th October 1971
Page 34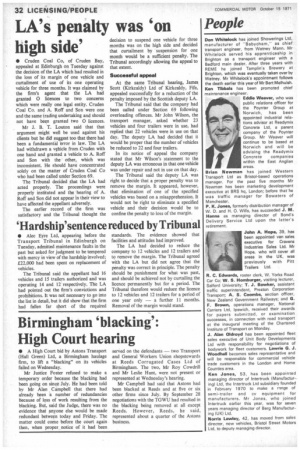 Page 34, 15th October 1971 —
Birmingham 'blacking': High Court hearing
Close
• A High Court bid by Astons Transport (Hall Green) Ltd, a Birmingham haulage firm, to lift a "blacking" on its vehicles failed on Wednesday.
Mr Justice Foster refused to make a temporary order because the blacking had been going on since July. He had been told by Mr Alan Campbell that there had already been a number of redundancies because of loss of work resulting from the blacking. But, said the Judge, there was no evidence that anyone else would be made redundant between today and Friday. The matter could come before the court again then, when proper notice of it had been served on the defendants — two Transport and General Workers Union shopstewards at Reeds Corrugated Cases Ltd of Birmingham. The two, Mr Roy Cowdrill and Mr Leslie Hunt, were not present or represented at Wednesday's hearing.
Mr Campbell had said that Astons had been blacked at Reeds and at five or six other firms since July. By September 28 negotiations with the TGWU had resulted in the blacking being removed at all except Reeds. However. Reeds. he said. represented about a quarter or the Astons business.