RHA's informant justified but objection fails
15th October 1971
Page 32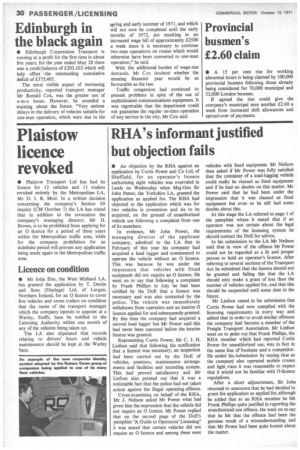 Page 32, 15th October 1971 —
RHA's informant justified but objection fails
Close
• An objection by the RHA against an application by Curtis Power and Co Ltd, of Sheffield, for an operator's licence authorizing eight vehicles was overruled in Leeds on Wednesday when Maj-Gen Sir John Potter, the Yorkshire LA, granted the application as applied for. The RHA had objected to the application which was for two vehicles in possession and six to be acquired, on the ground of unauthorized vehicle use following a complaint from one of its members.
In evidence, Mr John Power, the managing director of the applicant company, admitted to the LA that in February of this year his company had acquired a load lugger and commenced to operate the vehicle without an 0 licence. This was because he was under the impression that vehicles with fitted equipment did not require an 0 licence. He went on to say that following a complaint by Frank Phillips in July he had been notified by the DoE that a licence was necessary and was also contacted by the police. The vehicle was immediately withdrawn from operation and an interim 0 licence applied for and subsequently granted. By this time the company had acquired a second load lugger but Mr Power said this had never been operated before the interim licence was granted.
Representing Curtis Power, Mr C. J. H. Linfoot said that following the notification that a licence was necessary, an inspection had been carried out by the DoE of vehicles, premises, maintenance arrangements and facilities and recording system. This had proved satisfactory and Mr Linfoot also pointed out that it was a noticeable fact that the police had not taken action against the illegal operating offence.
Cross-examining on behalf of the RHA, Mr J. Neilson asked Mr Power what had given him the impression that the vehicle did not require an 0 licence. Mr Power replied that on the second page of the DoE's pamphlet "A Guide to Operators' Licensing" it was stated that certain vehicles did not require an 0 licence and among these were vehicles with fixed equipment. Mr Neilson then asked if Mr Power was fully satisfied that the container of a load-lugging vehicle could really be classed as fixed equipment and if he had no doubts on this matter. Mr Power said that he had been under the impression that it was classed as fixed equipment but even so he still had some doubts about this.
At this stage the LA referred to page 1 of the pamphlet where it stated that if an operator was not certain about the legal requirements of the licensing system he should contact the DoE for advice.
In his submission to the LA Mr Neilson said that in view of the offence Mr Power could not be regarded as a fit and proper person to hold an operator's licence. After referring to several sections of the Transport Act he submitted that the licence should not be granted and failing this that the LA should only make a grant of less than the number of vehicles applied for, and that this should be suspended until some date in the future.
Mr Linfoot stated in his submission that Curtis Power had now complied with the licensing requirements in every way and added that in order to avoid similar offences the company had become a member of the Freight Transport Association. Mr Linfoot went on to point out that Frank Phillips, the RHA member which had reported Curtis Power for unauthorized use, was in fact in the same line of business and a competitor. He ended his/submission by saying that as the company also operated mobile cranes and light/Vans it was reasonable to expect that it would not be familiar with 0-licence regulations.
After a short adjournment, Sir John returned to announce that he had decided to grant the application as applied for, although he added that as an RHA member he felt Frank Phillips quite justified in reporting the unauthorized-use offenCe. He went on to say that he felt that the offence had been the genuine result of a misunderstanding and that Mr Power had been quite honest about the matter.