Plaistow licence revoked
15th October 1971
Page 32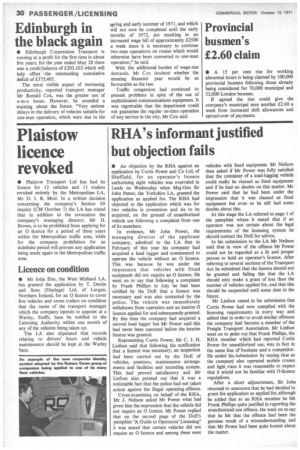 Page 32, 15th October 1971 —
Plaistow licence revoked
Close
• Plaistow Transport Ltd has had its licence for 12 vehicles and 11 trailers revoked entirely by the Metropolitan LA, Mr D. I. R. Muir. In a written decision concerning the company's Section 69 inquiry (CM October 1) the LA has stated that in addition to the revocation the company's managing director, Mr H. Brown, is to be prohibited from applying for an 0 licence for a period of three years within the Metropolitan traffic area, while for the company prohibition for an indefinite period will prevent any application being made again in the Metropolitan traffic area.
Licence on condition
• Mr John Else, the West Midland LA. has granted the application by T. Devlin and Sons (Haulage) Ltd, of Lurgan, Northern Ireland, for an 0 licence to cover five vehicles and seven trailers on condition that the name of the transport manager which the company intends to appoint at a Warley, Staffs, base he notified to the Licensing Authority within one month of any of the vehicles being taken up.
The LA also stipulated that records relating to drivers' hours and vehicle maintenance should be kept at the Warley base.