Operators complain of dilatory treatment
15th October 1971
Page 22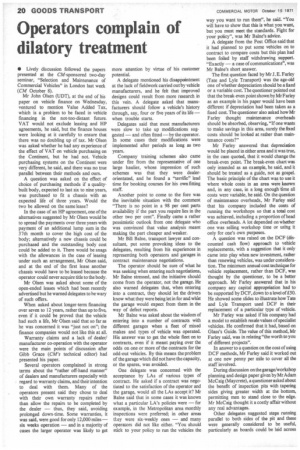 Page 23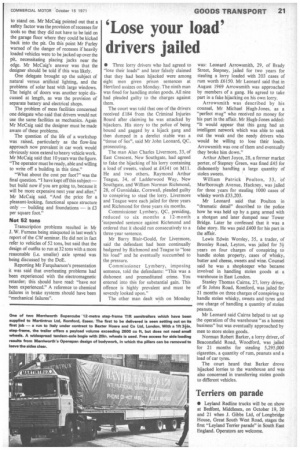 Page 22, 15th October 1971 —
Operators complain of dilatory treatment
Close
• Lively discussion followed the papers presented at the CM-sponsored two-day seminar, "Selection and Maintenance of Commercial Vehicles" in London last week (CM October 8).
Mr John Olsen (UDT), at the end of his paper on vehicle finance on Wednesday, ventured to mention Value Added Tax, which is a problem to be faced in vehicle financing in the not-too-distant future. VAT would not exclude leasing and HP agreements, he said, but the finance houses were looking at it carefully to ensure that there was no doubling up of tax. Mr Olsen was asked whether he had any experience of the effect of VAT on vehicle purchasing on the Continent, but he had not. Vehicle purchasing systems on the Continent were very different, he said, and there was no true parallel between their methods and ours.
A question was asked on the effect of choice of purchasing methods if a qualitybuilt body, expected to last six to nine years, was purchased to fit a chassis with an expected life of three years. Would the two be allowed on the same lease?
In the case of an HP agreement, one of the alternatives suggested by Mr Olsen would be to spread the payments over three years with payment of an additional lump sum in the 37th month to cover the high cost of the body; alternatively a new chassis could be purchased and the outstanding body cost could be added to it. There would be snags with the allowances in the case of leasing under such an arrangement, Mr Olsen said, and at the end of the first lease another chassis would have to be leased because the operator could never acquire title to the body.
Mr Olsen was asked about some of the open-ended leases which had been recently advertised but he warned delegates to be wary of such offers.
When asked about longer-term financing over seven to 12 years, rather than up to five, even if it could be proved that the vehicle had such a life, Mr Olsen said that so far as he was concerned it was "just not on"; the finance companies would not like this at all.
Warranty claims and a lack of dealer/ manufacturer co-operation with the operator were the main points of discussion after Gibb Grace (CM's technical editor) had presented his paper.
Several operators complained in strong terms about the "rather off-hand manner" of dealers and manufacturers especially with regard to warranty claims, and their intention to deal with them. Many of the operators present said they chose to deal with their own warranty repairs rather than allow the repairs to be completed by the dealer — thus, they said, avoiding prolonged down-time. Some warranties, it was said, were good for only 12,000 miles — six weeks operation — and in a majority of cases the larger operator was likely to get more attention by virtue of his customer potential.
A delegate mentioned his disappointment at the lack of fieldwork carried out by vehicle manufacturers, and he felt that improved designs could result from more research in this vein. A delegate asked that manufacturers should follow a vehicle's history
through, say, four or five years of its life—when trouble starts.
Delegates said that most manufacturers were slow to take up modifications suggested — and often fitted — by the operator. In some cases their modifications were implemented after periods as long as two years.
Company training schemes also came under fire from the representative of one large haulier, whose impression of such schemes was that they were dealerorientated, and he found a "terrific" lead time for booking courses for his own fitting staff.
Another point to come to the fore was the inevitable situation with the comment –There is no point in a 98 per cent parts availability if the part you require lies in the other two per cent". Finally came a rather pessimistic outlook from one delegate who was convinced that value analysis meant making the part cheaper and weaker.
Mr Bill Balne, transport lawyer and consultant, put some provoking ideas to the delegates, resulting from his experiences in representing both operators and garages in contract maintenance negotiations.
The operator should be sure of what he was seeking when entering such negotiations, Mr Balne stressed, and the initiative should come from the operator, not the garage. He also warned delegates that, when entering into a contract, they should let the drivers know what they were being let in for and whht the garage would expect from them in the way of defect reports.
Mr Balne was asked about the wisdom of entering into a number of contracts with different garages when a fleet of mixed makes and types of vehicle was operated. His answer was to get the whole fleet on to contracts, even if it meant paying over the odds on one or more of the contracts for the odd-out vehicles. By this means the problem of the garage which did not have the capacity, or the spares. was avoided.
One delegate was concerned with the acceptance by LAs of various types of contract. He asked if a contract was negotiated to the satisfaction of the operator and the garage, would all the LAs accept it? Mr Balne said that in some cases it was known what a particular LA's policies were — for example, in the Metropolitan area monthly inspections were preferred; in other areas they were six-weekly ones — and many operators did not like either. "You should stick to your policy to run the vehicles the way you want to run them", he said. "You will have to show that this is what you want, but you must meet the standards. Fight for your policy", was Mr Balne's advice.
A delegate from the Post Office said that it had planned to put some vehicles on to contract to compare costs but this plan had been foiled by staff withdrawing support. "Exactly — a case of communications". was Mr Babe's short answer.
The first question faced by Mn. E. Farley (Tate and Lyle Transport) was the age-old one of whether depreciation should be a fixecl or a variable cost. The questioner pointed out that the break-even point shown by Mr Farley as an example in his paper would have been different if depreciation had been taken as a fixed cost. The questioner also asked how Mr Farley thought maintenance overheads should be absorbed, observing, "If one wants to make savings in this area, surely the fixed costs should be looked at rather than maintenance costs?"
Mr Farley answered that depreciation would be placed in either area and it was true, in the case quoted, that it would change the break-even point. The break-even chart was only intended as an example, he said, and it should be treated as a guide, not as gospel. The basic principle of the chart was to use it where whole costs in an area were known and, in any case, in a long enough time all costs were variable, he said. On the question of maintenance overheads, Mr Farley said that his company included the costs of running the workshops so that a total cost was achieved, including a proportion of head office overheads. A lot depended on whether one was selling workshop time or using it only for one's own purposes.
A question was raised on the DCF (discounted cash flow) approach to vehicle replacements, with a suggestion that it only came into play when new investment, rather than renewing vehicles, was under consideration. The minimum annual cost technique for vehicle replacement, rather than DCF, was thought by the questioner, to be a better approach. Mr Farley answered that in his company any capital appropriation had to be supported by DCF, down to a level of £50. He showed some slides to illustrate how Tate and Lyle Transport used DCF in their replacement of a particular type of vehicle.
Mr Farley was asked if his company had a model to establish resale values of specialist vehicles. He confirmed that it had, based on Glass's Guide. The value of this method, Mr Farley said, was in relating "the worth to you of different projects".
In answer to a question on the cost of using DCF methods, Mr Farley said it worked out at one new penny per mile to cover all the staff involved.
During discussion on the garage/workshop planning and design paper given by Mr Adam McC aig (Maycrete), a questioner asked about the benefit of inspection pits with tapering sides giving greater width at the bottom, permitting men to stand close to the edge. Mr McCaig thought it a costly affair without any real advantages.
Other delegates suggested steps running parallel to both sides of the pit and these were generally considered to be useful, particularly as boards could be laid across to stand on. Mr McCaig pointed out that a safety factor was the provision of recesses for tools so that they did not have to be laid on the garage floor where they could be kicked back into the pit. On this point Mr Farley warned of the danger of recesses if heavily loaded vehicles were to be jacked up over the pit, necessitating placing jacks near the edge. Mr McCaig's answer was that the designer should be told if this was likely.
One delegate brought up the subject of natural versus artificial lighting, and the problems of solar heat with large windows. The height of doors was another topic discussed at length, as was the provision of separate battery and electrical shops.
The problem of mess facilities concerned one delegate who said that drivers would not use the same facilities as mechanics. Again Mr McCaig said the designer must be made aware of these problems.
The question of the life of a workshop was raised, particularly as the flow-line approach now prevalent in car work would obviously soon extend to heavy vehicle work. Mr McCaig said that 10 years was the figure. "The operator must be ready, able and willing to write off a building in this time."
"What about the cost per foot?" was the final question. "I have kept off this subject — but build now if you are going to, because it will be more expensive next year and after," Mr McCaig said. "And the price for a pleasant-looking, functional space structure only — building and foundations — is £3 per square foot."
Not 52 tons
Transcription problems resulted in Mr J. W. Furness being misquoted in last week's report of the CM seminar. He did not in fact refer to vehicles of 52 tons, but said that the design of outfits to run at 32 tons with a more reasonable (i.e. smaller) axle spread was being discussed by the DoE.
Reporting Mr Farquharson's presentation it was said that overheating problems had been experienced with the electromagnetic retarder; this should have read: "have not been experienced." A reference to chemical failures in brake systems should have been "mechanical failures".