Contract Maintenance depot for Manchester
15th October 1971
Page 21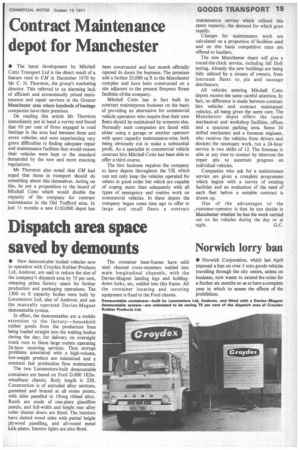 Page 21, 15th October 1971 —
Contract Maintenance depot for Manchester
Close
• The latest development by Mitchell Cotts Transport Ltd is the direct result of a feature read in CM in December 1970 by Mr C. H. Thornton, the group's marketing director. This referred to an alarming lack of efficient and economically priced maintenance and repair services in the Greater Manchester area where hundreds of haulage companies have their premises.
On reading this article Mr Thornton immediately put in hand a survey and found that 60 per cent of firms engaged in road haulage in the area had between three and seven vehicles, and were experiencing very grave difficulties in finding adequate repair and maintenance facilities that would ensure their vehicles were kept to the standard demanded by the new and more exacting regulations.
Mr Thornton also noted that CM had urged that those in transport should do something about this themselves. Acting on this, he put a proposition to the board of Mitchell Cotts which would double the capacity of the company for contract maintenance in the Old Trafford area. In just 11 months a new £150,000 depot has
been constructed and last month officially opened its doors for business: The premises add a further 25,000 sq ft to the Manchester complex and have been constructed on a site adjacent to the present Empress Street facilities ()lithe company.
Mitchell Cotts has in fact built its contract maintenance business on the basis of providing an alternative for commercial vehicle operators who require that their own fleets should be maintained by someone else. Normally such companies arc faced with either using a garage or another operator with spare capacity maintenance-wise, both being obviously out to make a substantial profit. As a specialist in commercial vehicle contract hire Mitchell Cotts has been able to offer a third course.
The hire business requires the company to have depots throughout the UK which can not only keep the vehicles operated for others in good order but which are capable of coping more than adequately with all types of emergency and routine work on commercial vehicles. In these depots the company began some time ago to offer to large and small fleets a contract maintenance service which utilized this spare capacity, the demand for which grew rapidly.
Charges for maintenance work are calculated on a proportion of facilities used and on this basis competitive rates are offered to hauliers.
The new Manchester depot will give a round-the-clock service, including full DoE testing. Already the new buildings are being fully utilized by a tream of owners, from icecream fleets to pie and sausage distributors, All vehicles entering Mitchell Cotts depots receive the same careful attention. In fact, no difference is made between contract hire vehicles and contract maintained vehicles, all being given the same care. The Manchester depot offers the latest mechanical and workshop facilities, offices and a spacious parking area. Some 24 skilled mechanics and a foreman engineer.
who receives the vehicles from drivers and dockets the necessary work, run a 24-hour service in two shifts of 12. The foreman is able at any time to contact by intercom the repair pits to ascertain progress on individual vehicles.
Companies who ask for a maintenance service are given a complete programme which begins with a survey of existing facilities and an evaluation of the need of each fleet before a suitable contract is drawn up.
One of the advantages to the customer-operator is that he can decide in
Manchester whether he has the work carried out on his vehicles during the day or at night. G.C.