Insurance assessor praises big operators
15th October 1971
Page 20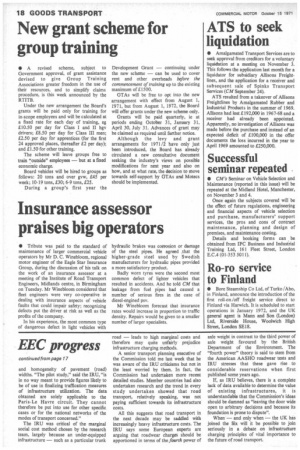 Page 20, 15th October 1971 —
Insurance assessor praises big operators
Close
• Tribute was paid to the standard of maintenance of larger commercial vehicle operators by Mr D. C. Winebloom, regional motor engineer of the Eagle Star Insurance Group, during the discussion of his talk on the work of an insurance assessor at a meeting of the Institute of Road Transport Engineers, Midlands centre, in Birmingham on Tuesday. Mr Winebloom considered that fleet engineers were very co-operative in dealing with insurance aspects of vehicle faults that could impair safety; recognizing defects put the driver at risk as well as the profits of the company.
In his experience, the most common type of dangerous defect in light vehicles with hydraulic brakes was corrosion or damage of the steel pipes. He agreed that the higher-grade steel used by Swedish manufacturers for hydraulic pipes provided a more satisfactory product.
Badly worn tyres were the second most common defect of lighter vehicles that resulted in accidents. And he told CM that leakage from fuel pipes had caused a number of serious fires in the case of diesel-engined psv.
Mr Winebloom forecast that insurance rates would increase in proportion to traffic density. Repairs would be given to a smaller number of larger specialists.