Palletways introduces 'deliveries in the sun'
15th November 2012
Page 9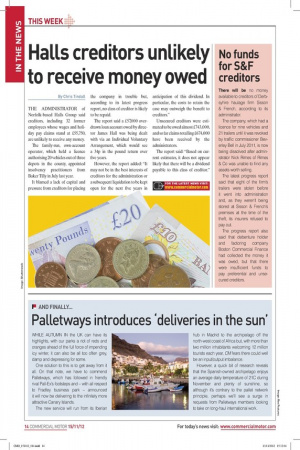 Page 9, 15th November 2012 —
Palletways introduces 'deliveries in the sun'
Close
WHILE AUTUMN IN the UK can have its highlights, with our parks a riot of reds and oranges ahead of the full force of impending icy winter, it can also be all too often grey, damp and depressing for some.
One solution to this is to get away from it all. On that note, we have to commend Palletways, which has followed in friendly rival Pall-Ex's footsteps and – with all respect to Fradley business park – announced it will now be delivering to the infinitely more attractive Canary Islands.
The new service will run from its Iberian hub in Madrid to the archipelago off the north-west coast of Africa but, with more than two million inhabitants welcoming 12 million tourists each year, CM fears there could well be an input/output imbalance.
However, a quick bit of research reveals that the Spanish-owned archipelago enjoys an average daily temperature of 21C during November and plenty of sunshine, so although it's contrary to the pallet network principle, perhaps we'll see a surge in requests from Palletways members looking to take on long-haul international work.