Denby's Dutch debutante
15th November 2012
Page 7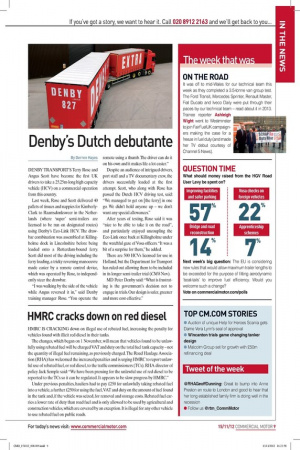 Page 7, 15th November 2012 —
Denby's Dutch debutante
Close
By Derren Hayes
DENBY TRANSPORT'S Terry Rose and Angus Scott have become the first UK drivers to take a 25.25m-long high capacity vehicle (HCV) on a commercial operation from this country.
Last week, Rose and Scott delivered 40 pallets of tissues and nappies for KimberlyClark to Raamsdonksweer in the Netherlands (where 'super' semi-trailers are licensed to be run on designated routes) using Denby's Eco-Link HCV. The drawbar combination was assembled at Killingholme dock in Lincolnshire before being loaded onto a Rotterdam-bound ferry. Scott did most of the driving including the ferry loading, a tricky reversing manoeuvre made easier by a remote control device, which was operated by Rose, to independently steer the drawbar.
"I was walking by the side of the vehicle while Angus reversed it in," said Denby training manager Rose. "You operate the remote using a thumb. The driver can do it on his own and it makes life a lot easier." Despite an audience of intrigued drivers, port staff and a TV documentary crew, the drivers successfully loaded at the first attempt. Scott, who along with Rose has passed the Dutch HCV driving test, said: "We managed to get on [the ferry] in one go. We didn't hold anyone up – we don't want any special allowances." After years of testing, Rose said it was "nice to be able to take it on the road" , and particularly enjoyed uncoupling the Eco-Link once back at Killingholme under the watchful gaze of Vosa officers. "It was a bit of a surprise for them," he added.
There are 500 HCVs licensed for use in Holland, but the Department for Transport has ruled out allowing them to be included in its longer semi-trailer trial (CM 8 Nov).
MD Peter Denby said: "What is frustrating is the government's decision not to engage in trials. Our design is safer, greener and more cost-effective."