FRENCH CONNECTION: South Walesbased aggregates haulier P J Webb Haulage
15th November 2012
Page 6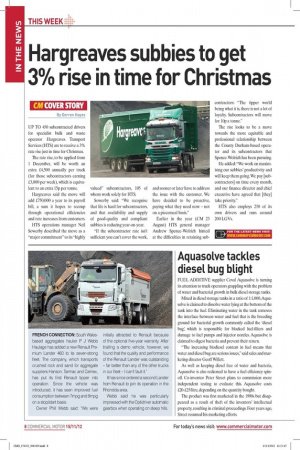 Page 6, 15th November 2012 —
FRENCH CONNECTION: South Walesbased aggregates haulier P J Webb Haulage
Close
has added a new Renault Premium Lander 460 to its seven-strong fleet. The company, which transports crushed rock and sand for aggregate suppliers Hanson, Tarmac and Cemex, has put its first Renault tipper into operation. Since the vehicle was introduced, it has seen improved fuel consumption between 7mpg and 8mpg on a stop/start basis.
Owner Phill Webb said: "We were initially attracted to Renault because of the optional five-year warranty. After trialling a demo vehicle, however, we found that the quality and performance of the Renault Lander was outstanding – far better than any of the other trucks in our fleet – I can't fault it." It has since ordered a second Lander from Renault to join its operation in the Rhondda area.
Webb said he was particularly impressed with the Optidriver automatic gearbox when operating on steep hills.