Aquasolve tackles diesel bug blight
15th November 2012
Page 6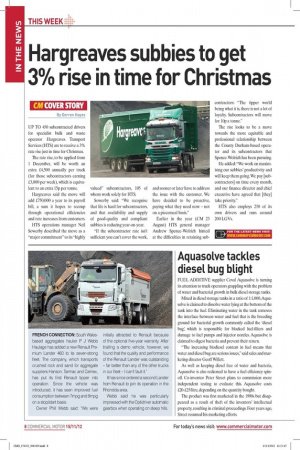 Page 6, 15th November 2012 —
Aquasolve tackles diesel bug blight
Close
FUEL ADDITIVE supplier Coval Aquasolve is turning its attention to truck operators grappling with the problem of water and bacterial growth in bulk diesel storage tanks.
Mixed in diesel storage tanks in a ratio of 1:1,000, Aquasolve is claimed to dissolve water lying at the bottom of the tank into the fuel. Eliminating water in the tank removes the interface between water and fuel that is the breeding ground for bacterial growth commonly called the 'diesel bug', which is responsible for blocked fuel-filters and damage to fuel pumps and injector nozzles. Aquasolve is claimed to digest bacteria and prevent their return.
"The increasing biodiesel content in fuel means that water and diesel bug are serious issues," said sales and marketing director Geoff Willett.
As well as keeping diesel free of water and bacteria, Aquasolve is also reckoned to have a fuel efficiency spinoff. Co-inventor Peter Street plans to commission more independent testing to evaluate this. Aquasolve costs £20-£25/litre, depending on the quantity bought.
The product was first marketed in the 1990s but disappeared as a result of theft of the inventors' intellectual property, resulting in criminal proceedings. Four years ago, Street resumed his marketing efforts.