SDC 'not surprised' by DfT resistance
15th November 2012
Page 5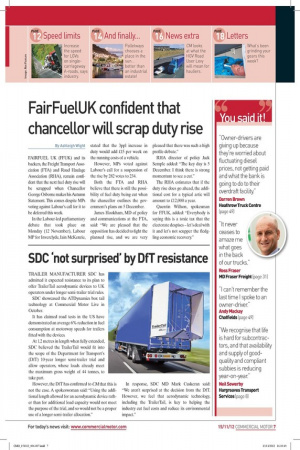 Page 5, 15th November 2012 —
SDC 'not surprised' by DfT resistance
Close
TRAILER MANUfACTURER SDC has admitted it expected resistance to its plan to offer TrailerTail aerodynamic devices to UK operators under longer semi-trailer trial rules.
SDC showcased the ATDynamics box tail technology at Commercial Motor Live in October.
It has claimed road tests in the US have demonstrated an average 6% reduction in fuel consumption at motorway speeds for trailers fitted with the devices.
At 1.2 metres in length when fully extended, SDC believed the TrailerTail would fit into the scope of the Department for Transport's (DfT) 10-year longer semi-trailer trial and allow operators, whose loads already meet the maximum gross weight of 44 tonnes, to take part.
However, the DfT has confirmed to CM that this is not the case. A spokeswoman said: "Using the additional length allowed for an aerodynamic device rather than for additional load capacity would not meet the purpose of the trial, and so would not be a proper use of a longer semi-trailer allocation." In response, SDC MD Mark Cuskeran said: "We aren't surprised at the decision from the DfT. However, we feel that aerodynamic technology, including the TrailerTail, is key to helping the industry cut fuel costs and reduce its environmental impact."