FairFuelUK confident that chancellor will scrap duty rise
15th November 2012
Page 5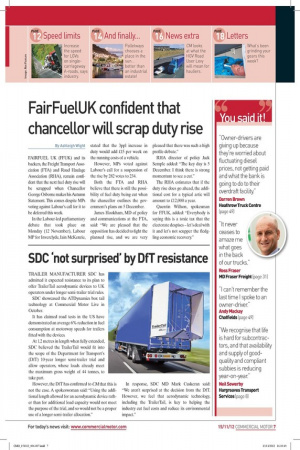 Page 5, 15th November 2012 —
FairFuelUK confident that chancellor will scrap duty rise
Close
By Ashleigh Wight
fAIRfUEL UK (ffUK) and its backers, the freight Transport Association (fTA) and Road Haulage Association (RHA), remain confident that the next fuel duty rise will be scrapped when Chancellor George Osborne makes his Autumn Statement. This comes despite MPs voting against Labour's call for it to be deferred this week.
In the Labour-led parliamentary debate that took place on Monday (12 November), Labour MP for Inverclyde, Iain McKenzie, stated that the 3ppl increase in duty would add £15 per week on the running costs of a vehicle.
However, MPs voted against Labour's call for a suspension of the rise by 282 votes to 234.
Both the fTA and RHA believe that there is still the possibility of fuel duty being cut when the chancellor outlines the government's plans on 5 December.
James Hookham, MD of policy and communications at the fTA, said: "We are pleased that the opposition has decided to fight the planned rise, and we are very pleased that there was such a high profile debate." RHA director of policy Jack Semple added: "The key day is 5 December. I think there is strong momentum to see a cut." The RHA estimates that if the duty rise does go ahead, the additional cost for a typical artic will amount to £12,000 a year.
Quentin Willson, spokesman for ffUK, added: "Everybody is saying this is a toxic tax that the electorate despises – let's deal with it and let's not scupper the fledgling economic recovery."