ING Lease leaves UK asset finance market
15th November 2012
Page 4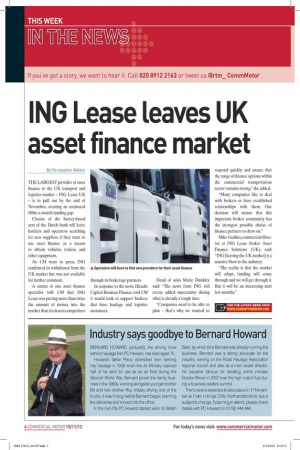 Page 4, 15th November 2012 —
ING Lease leaves UK asset finance market
Close
By Christopher Walton
THE LARGEST provider of asset finance to the UK transport and logistics market – ING Lease UK – is to pull out by the end of November, creating an estimated £80m-a-month funding gap.
Closure of the Surrey-based arm of the Dutch bank will leave hauliers and operators searching for new suppliers, if they want to use asset finance as a means to obtain vehicles, trailers, and other equipment.
As CM went to press, ING confirmed its withdrawal from the UK market but was not available for further comment.
A source at one asset finance specialist told CM that ING Lease was putting more than twice the amount of money into the market than its closest competitors through its brokerage partners.
In response to the news, Hitachi Capital Business Finance told CM it would look to support brokers that have haulage and logistics customers. Head of sales Marie Dunkley said: "The news from ING will create added uncertainty during what is already a tough time.
"Companies need to be able to plan – that's why we wanted to respond quickly and ensure that the range of finance options within the commercial transportation sector remains strong," she added.
"Many companies like to deal with brokers or have established relationships with them. Our decision will ensure that this important broker community has the strongest possible choice of finance partners to draw on." Mike Geddes, commercial director at ING Lease broker Asset Finance Solutions (UK), said: "ING [leaving the UK market] is a massive blow to the industry.
"The reality is that the market will adapt, funding will come through and we will get through it. But it will be an interesting next few months."