or
15th November 2012
Page 31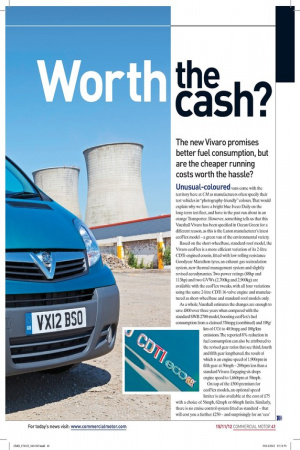 Page 32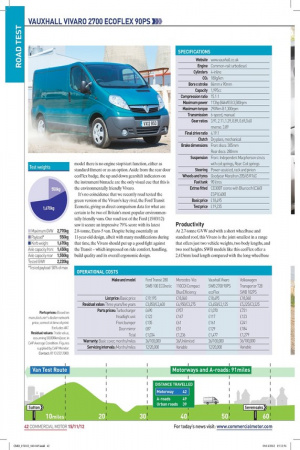 Page 33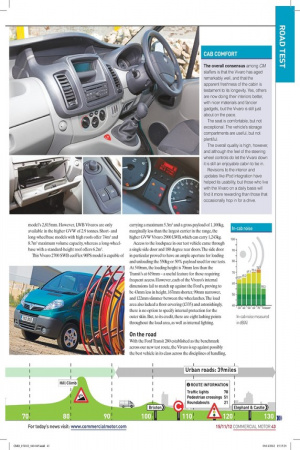 Page 34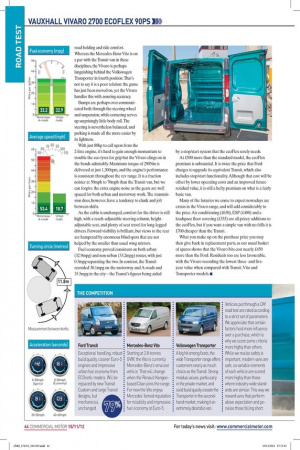 Page 35
Page 31, 15th November 2012 —
or
Close
the
cash?
The new Vivaro promises better fuel consumption, but are the cheaper running costs worth the hassle?
Unusual-coloured vans come with the territory here at CM as manufacturers often specify their test vehicles in "photography-friendly" colours. That would explain why we have a bright blue Iveco Daily on the long-term test fleet, and have in the past run about in an orange Transporter. However, something tells us that this Vauxhall Vivaro has been specified in Ocean Green for a different reason, as this is the Luton manufacturer's latest ecoFlex model – a green van of the environmental variety.
Based on the short-wheelbase, standard-roof model, the Vivaro ecoFlex is a more efficient variation of its 2-litre CDTi-engined cousin, fitted with low rolling resistance Goodyear Marathon tyres, an exhaust gas recirculation system, new thermal management system and slightly revised aerodynamics. Two power ratings (88hp and 113hp) and two GVWs (2,700kg and 2,900kg) are available with the ecoFlex tweaks, with all four variations using the same 2-litre CDTi 16-valve engine and manufactured as short-wheelbase and standard-roof models only.
As a whole, Vauxhall estimates the changes are enough to save £800 over three years when compared with the standard SWB 2700 model, boosting ecoFlex's fuel consumption from a claimed 37.6mpg (combined) and 198g/ km of CO2 to 40.9mpg and 180g/km emissions. The reported 8% reduction in fuel consumption can also be attributed to the revised gear ratios that see third, fourth and fifth gear lengthened, the result of which is an engine speed of 1,900rpm in fifth gear at 50mph – 200rpm less than a standard Vivaro. Engaging six drops engine speed to 1,660rpm at 50mph.
On top of the £500 premium for ecoFlex models, an optional speed limiter is also available at the cost of £75 with a choice of 56mph, 62mph or 68mph limits. Similarly, there is no cruise control system fitted as standard – that will cost you a further £250 – and surprisingly for an 'eco' model there is no engine stop/start function, either as standard fitment or as an option. Aside from the rear door ecoFlex badge, the up and down gearshift indicators on the instrument binnacle are the only visual cue that this is the environmentally friendly Vivaro.
It's no coincidence that we recently road tested the green version of the Vivaro's key rival, the Ford Transit Econetic, giving us direct comparison data for what are certain to be two of Britain's most popular environmentally friendly vans. Our road test of the Ford (15/03/12) saw it secure an impressive 79% score with its latest 2.8-tonne, Euro-5 van. Despite being essentially an 11-year-old design, albeit with many modifications during that time, the Vivaro should put up a good fight against the Transit – which impressed on ride comfort, handling, build quality and its overall ergonomic design.
Productivity
At 2.7-tonne GVW and with a short wheelbase and standard roof, this Vivaro is the joint-smallest in a range that offers just two vehicle weights, two body lengths, and two roof heights. SWB models like this ecoFlex offer a 2,415mm load length compared with the long-wheelbase model's 2,815mm. However, LWB Vivaros are only available in the higher GVW of 2.9 tonnes. Shortand long-wheelbase models with high roofs offer 7.4m3 and 8.7m3 maximum volume capacity, whereas a long-wheelbase with a standard-height roof offers 6.2m3.
This Vivaro 2700 SWB ecoFlex 90PS model is capable of carrying a maximum 5.3m3 and a gross payload of 1,100kg, marginally less than the largest carrier in the range, the higher GVW Vivaro 2900 LWB, which can carry 1,243kg.
Access to the loadspace in our test vehicle came through a single side door and 180 degree rear doors. The side door in particular proved to have an ample aperture for loading and unloading the 550kg or 50% payload used for our tests. At 549mm, the loading height is 70mm less than the Transit's at 619mm – a useful feature for those requiring frequent access. However, each of the Vivaro's internal dimensions fail to match up against the Ford's, proving to be 43mm less in height, 167mm shorter, 99mm narrower, and 122mm slimmer between the wheelarches. The load area also lacked a floor covering (£335) and astonishingly, there is no option to specify internal protection for the outer skin. But, to its credit, there are eight lashing points throughout the load area, as well as internal lighting.
On the road
With the Ford Transit 280 established as the benchmark across our new test route, the Vivaro is up against possibly the best vehicle in its class across the disciplines of handling, road holding and ride comfort. Whereas the Mercedes-Benz Vito is on a par with the Transit van in these disciplines, the Vivaro is perhaps languishing behind the Volkswagen Transporter in fourth position. That's not to say it is a poor relation: the game has just been moved on, yet the Vivaro handles this with assuring accuracy.
Bumps are perhaps over-communicated both through the steering wheel and suspension, while cornering serves up surprisingly little body roll. The steering is nevertheless balanced, and parking is made all the more easier by its lightness.
With just 88hp to call upon from the 2-litre engine, it's hard to gain enough momentum to trouble the eco tyres for grip but the Vivaro clings on in the bends admirably. Maximum torque of 290Nm is delivered at just 1,300rpm, and the engine's performance is consistent throughout the rev range. It is a fraction noisier at 50mph to 70mph than the Transit van, but we can forgive the extra engine noise as the gears are well spaced for both urban and motorway work. The transmission does, however, have a tendency to clunk and jolt between shifts.
As the cabin is unchanged, comfort for the driver is still high, with a reach-adjustable steering column, heightadjustable seat, and plenty of seat travel for long-legged drivers. Forward visibility is brilliant, but views to the rear are hampered by enormous blind spots that are not helped by the smaller than usual wing mirrors.
Fuel economy proved consistent on both urban (32.9mpg) and non-urban (33.2mpg) routes, with just 0.3mpg separating the two. In contrast, the Transit recorded 30.1mpg on the motorway and A-roads and 35.5mpg in the city – the Transit's figures being aided by a stop/start system that the ecoFlex sorely needs.
At £500 more than the standard model, the ecoFlex premium is substantial. It is twice the price that Ford charges to upgrade its equivalent Transit, which also includes stop/start functionality. Although that cost will be offset by lower operating costs and an improved future residual value, it is still a hefty premium on what is a fairly basic van.
Many of the luxuries we come to expect nowadays are extras in the Vivaro range, and will add considerably to the price. Air conditioning (£630), ESP (£400) and a loadspace floor covering (£335) are all pricey additions to the ecoFlex, but if you want a simple van with no frills it is £700 cheaper than the Transit.
What you make up on the purchase price you may then give back in replacement parts, as our usual basket of spares shows that the Vivaro bits cost nearly £450 more than the Ford. Residuals too are less favourable, with the Vivaro recording the lowest threeand fiveyear value when compared with Transit, Vito and Transporter models. ■
CAB COMFORT
The overall consensus among CM staffers is that the Vivaro has aged remarkably well, and that the apparent freshness of the cabin is testament to its longevity. Yes, others are now doing their interiors better, with nicer materials and fancier gadgets, but the Vivaro is still just about on the pace.
The seat is comfortable, but not exceptional. The vehicle's storage compartments are useful, but not plentiful.
The overall quality is high, however, and although the feel of the steering wheel controls do let the Vivaro down it is still an enjoyable cabin to be in.
Revisions to the interior and updates like iPod integration have helped its usability, but those who live with the Vivaro on a daily basis will find it more rewarding than those that occasionally hop in for a drive.
THE COMPETITION Ford Transit Exceptional handling, robust build quality, cleaner Euro-5 engines and impressive urban fuel economy from ECOnetic models. Will be replaced by new Transit Custom and large Transit designs, but mechanicals unchanged. Mercedes-Benz Vito Starting at 2.8-tonnes GVW, the Vito is currently Mercedes-Benz's smallest vehicle. That will change when the Renault Kangoobased Citan joins the range. For now the Vito enjoys Mercedes' famed reputation for reliability and impressive fuel economy at Euro-5. Volkswagen Transporter A big hit among fleets, the wide Transporter range offers customers nearly as much choice as the Transit. Strong residual values, particularly in the private market, and solid build quality elevate the Transporter in the secondhand market, making it an extremely desirable van.
Vehicles put through a CM road test are rated according to a strict set of parameters. We appreciate that certain factors hold more influence over a purchase, which is why we score some criteria more highly than others. While we realise safety is important, modern vans are safe, so variable elements of each vehicle are scored more highly than those where industry-wide standards are similar. This way we reward vans that perform above expectation and penalise those falling short. UNDER THE BONNET The Vauxhall Vivaro ecoFlex is all about saving fuel and reducing emissions, so the manufacturer has gone to great lengths to optimise the efficiency of the common rail engine.
An exhaust gas recirculation system and better thermal management of heat generated in the combustion process ensure the engine not only meets Euro-5 requirements, but also reduces CO2 emissions by 18g/km.
Servicing intervals have increased to 20,000 miles for Euro-5 engines, up from 18,000 miles, and whole vehicle warranties now stand at 36 months and 100,000 miles.
How we score: Each of the above scoring criteria has been weighted to reward vehicles that push the boundaries of expectation. A score of 50% means the test subject has hit our expert's industry-wide basic standard for that class of vehicle, be that on seat comfort, engine performance or fuel economy.
TESTER'S VERDICT Recent eco-vans have looked to make real improvements to CO2 emissions and fuel efficiency, and the Vivaro has certainly made improvements in that area with an 18g/km CO2 reduction and a claimed 3.2mpg improvement over the combined cycle. Neither should be sniffed at, but at an additional £500 and by Vauxhall's own calculations an estimated two year payback, we wonder how many van users will bother.
We can't also help thinking Vauxhall has missed an easy win by omitting stop/start, a simple addition that may have seen the ecoFlex match, or out-perform the Transit's 35.5mpg urban fuel economy.
It's still a solid van, but with value, residuals and running costs in mind, it's hard to fully endorse going for this Ocean Green green van.