Dreaming about gravy
15th November 2012
Page 2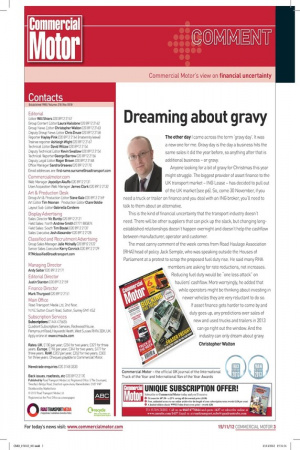 Page 2, 15th November 2012 —
Dreaming about gravy
Close
The other day I came across the term 'gravy day'. It was a new one for me. Gravy day is the day a business hits the same sales it did the year before, so anything after that is additional business – or gravy.
Anyone looking for a bit of gravy for Christmas this year might struggle. The biggest provider of asset finance to the UK transport market – ING Lease – has decided to pull out of the UK market (see p6). So, come 30 November, if you need a truck or trailer on finance and you deal with an ING broker, you'll need to talk to them about an alternative.
This is the kind of financial uncertainty that the transport industry doesn't need. There will be other suppliers that can pick up the slack, but changing longestablished relationships doesn't happen overnight and doesn't help the cashflow between manufacturer, operator and customer.
The most canny comment of the week comes from Road Haulage Association (RHA) head of policy Jack Semple, who was speaking outside the Houses of Parliament at a protest to scrap the proposed fuel duty rise. He said many RHA members are asking for rate reductions, not increases. Reducing fuel duty would be "one less attack" on hauliers' cashflow. More worryingly, he added that while operators might be thinking about investing in newer vehicles they are very reluctant to do so. If asset finance gets harder to come by and duty goes up, any predictions over sales of new and used trucks and trailers in 2013 can go right out the window. And the industry can only dream about gravy. Christopher Walton
Commercial Motor – the official UK journal of the International Truck of the Year and International Van of the Year Awards