Protect yourself
15th November 2012
Page 18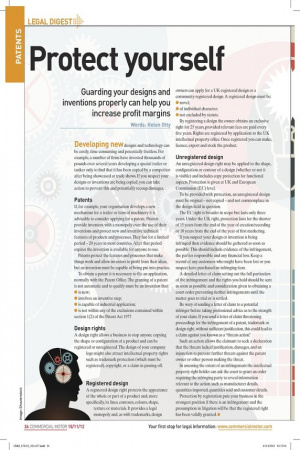 Page 19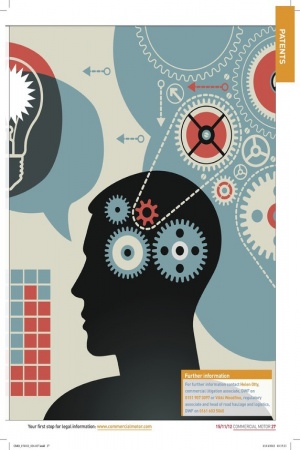 Page 18, 15th November 2012 —
Protect yourself
Close
Guarding your designs and inventions properly can help you increase profit margins
Words: Helen Otty Developing new designs and technology can be costly, time-consuming and potentially fruitless. For example, a number of firms have invested thousands of pounds over several years developing a special trailer or tanker only to find that it has been copied by a competitor after being showcased at trade shows. If you suspect your designs or inventions are being copied, you can take action to prevent this and potentially recoup damages.
Patents
If, for example, your organisation develops a new mechanism for a trailer or item of machinery it is advisable to consider applying for a patent. Patents provide inventors with a monopoly over the use of their inventions and protect new and inventive technical features of products and processes. They last for a limited period – 20 years in most countries. After that period expires the invention is available for anyone to use.
Patents protect the features and processes that make things work and allow inventors to profit from their ideas, but an invention must be capable of being put into practice.
To obtain a patent it is necessary to file an application, normally with the Patent Office. The granting of a patent is not automatic and to qualify must be an invention that: • is new; • involves an inventive step; • is capable of industrial application; • is not within any of the exclusions contained within section 1(2) of the Patent Act 1977.
Design rights
A design right allows a business to stop anyone copying the shape or configuration of a product and can be registered or unregistered. The design of your company logo might also attract intellectual property rights such as trademark protection (which must be registered), copyright, or a claim in passing off.
Registered design
A registered design right protects the appearance of the whole or part of a product and, more specifically, its lines, contours, colours, shape, texture or materials. It provides a legal monopoly and, as with trademarks, design owners can apply for a UK-registered design or a community-registered design. A registered design must be: • novel; • of individual character; • not excluded by statute.
By registering a design the owner obtains an exclusive right for 25 years, provided relevant fees are paid every five years. Rights are registered by application to the UK intellectual property office. Once registered you can make, licence, export and stock the product.
Unregistered design
An unregistered design right may be applied to the shape, configuration or contour of a design (whether or not it is visible) and includes copy protection for functional aspects. Protection is given at UK and European Commission (EC) level.
To be provided with protection, an unregistered design must be original – not copied – and not commonplace in the design field in question.
The EC right is broader in scope but lasts only three years. Under the UK right, protection lasts for the shorter of 15 years from the end of the year of creation/recording or 10 years from the end of the year of first marketing.
If you suspect your design or invention is being infringed then evidence should be gathered as soon as possible. This should include evidence of the infringement, the parties responsible and any financial loss. Keep a record of any customers who might have been lost or you suspect have purchased an infringing item.
A detailed letter of claim setting out the full particulars of the infringement and the rights you hold should be sent as soon as possible and consideration given to obtaining a court order preventing further infringements until the matter goes to trial or is settled.
Be wary of sending a letter of claim to a potential infringer before taking professional advice as to the strength of your claim. If you send a letter of claim threatening proceedings for the infringement of a patent, trademark or design right, without sufficient justification, this could lead to a claim against you known as a "threats action".
Such an action allows the claimant to seek a declaration that the threats lacked justification, damages, and an injunction to prevent further threats against the patent owner or other person making the threat.
In assessing the extent of an infringement the intellectual property right holder can ask the court to grant an order requiring the infringing party to reveal information relevant to the action, such as manufacturer details, quantities imported, quantities sold and customer details.
Protection by registration puts your business in the strongest position if there is an infringement and the presumption in litigation will be that the registered right has been validly granted. ■
Further information
For further information contact Helen Otty, commercial litigation associate, DWF on 0151 907 3097 or Vikki Woodfine, regulatory associate and head of road haulage and logistics, DWF on 0161 603 5060