Licence curtailed for maintenance failings
15th November 2012
Page 13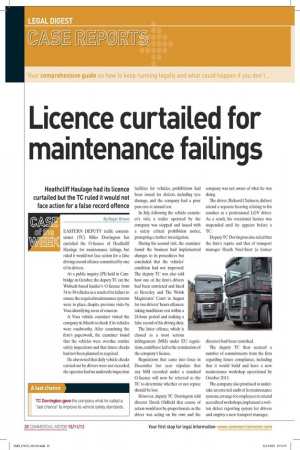 Page 13, 15th November 2012 —
Licence curtailed for maintenance failings
Close
Heathcliff Haulage had its licence curtailed but the TC ruled it would not face action for a false record offence
By Roger Brown
EASTERN DEPUTY traffic commissioner (TC) Miles Dorrington has curtailed the O-licence of Heathcliff Haulage for maintenance failings, but ruled it would not face action for a false driving record offence committed by one of its drivers.
At a public inquiry (PI) held in Cambridge in October, the deputy TC cut the Wisbech-based haulier's O-licence from 34 to 30 vehicles as a result of its failure to ensure the required maintenance systems were in place, despite previous visits by Vosa identifying areas of concern.
A Vosa vehicle examiner visited the company in March to check if its vehicles were roadworthy. After examining the firm's paperwork, the examiner found that the vehicles were overdue routine safety inspections and that future checks had not been planned as required.
He also noted that daily vehicle checks carried out by drivers were not recorded, the operator had no underside inspection facilities for vehicles, prohibitions had been issued for defects, including tyre damage, and the company had a poor pass rate at annual test.
In July, following the vehicle examiner's visit, a trailer operated by the company was stopped and issued with a safety critical prohibition notice, prompting a further investigation.
During his second visit, the examiner found the business had implemented changes to its procedures but concluded that the vehicles' condition had not improved. The deputy TC was also told how one of the firm's drivers had been convicted and fined at Beverley and The Wolds Magistrates' Court in August for two drivers' hours offences: taking insufficient rest within a 24-hour period and making a false record of his driving duty.
The latter offence, which is classed as a most serious infringement (MSI) under EU regulations, could have led to the termination of the company's licence.
Regulations that came into force in December last year stipulate that any MSI recorded under a standard O-licence will now be referred to the TC to determine whether or not repute should be lost.
However, deputy TC Dorrington told director Derek Oldfield that course of action would not be proportionate as the driver was acting on his own and the company was not aware of what he was doing.
The driver, Richard Chalmers, did not attend a separate hearing relating to his conduct as a professional LGV driver. As a result, his vocational licence was suspended until he appears before a TC.
Deputy TC Dorrington also ruled that the firm's repute and that of transport manager Heath Noel-Storr (a former director) had been tarnished.
The deputy TC then secured a number of commitments from the firm regarding future compliance, including that it would build and have a new maintenance workshop operational by October 2013.
The company also promised to undertake an external audit of its maintenance systems, arrange for employees to attend accredited workshops, implement a written defect reporting system for drivers and employ a new transport manager.
A last chance
TC Dorrington gave the company what he called a "last chance" to improve its vehicle safety standards.