'Will hauliers ever get real and pass on the cost of operation?'
15th May 1997
Page 70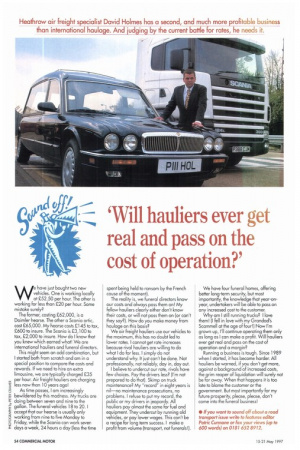 Page 70, 15th May 1997 —
'Will hauliers ever get real and pass on the cost of operation?'
Close
We have just bought two new vehicles. One is working locally at £52.50 per hour. The other is working for less than £20 per hour. Some mistake surely?
The former, costing £62,000, is a Daimler hearse. The other a Scania artic, cost £65,000. My hearse costs £145 to tax, 2600 to insure. The Scania is £3,100 to tax, £2,000 to insure. How do I know that you knew which earned what! We are international hauliers and funeral directors.
This might seem an odd combination, but I started both from scratch and am in a special position to compare the costs and rewards. If we need to hire an extra limousine, we are typically charged £35 per hour. Air freight hauliers are charging less now than 10 years ago!
As time passes. I am increasingly bewildered by this madness. My trucks are doing between seven and nine to the gallon. The funeral vehicles 18 to 20. 1 accept that our hearse is usually only working from nine to five Monday to Friday, while the Scania con work seven days a week, 24 hours a day (less the time spent being held to ransom by the French cause of the moment).
The reality is, we funeral directors know our costs and always pass them on! My fellow hauliers clearly either don't know their costs, or will not pass them on (or can't they say?). How do you make money from haulage on this basis?
We air freight hauliers use our vehicles to the maximum, this has no doubt led to lower rates. I cannot get rate increases because rival hauliers are willing to do what I do for less. I simply do not understand why. It just can't be done. Not professionally, not reliably, day in, day out. I believe to undercut our rate, rivals have few choices. Pay the drivers less? (I'm not prepared to do that) Skimp on truck maintenance? My "record" in eight years is nil—no maintenance prosecutions, no problems. I refuse to put my record, the public or my drivers in jeopardy. All hauliers pay almost the same for fuel and equipment. They undercut by running old vehicles, or pay lower wages. This can't be a recipe for long term success. I make a profit from volume (transport, not funerals!). We have four funeral homes, offering better long-term security, but most importantly, the knowledge that year-onyear, undertakers will be able to pass on any increased cost to the customer.
Why am I still running trucks? I love them! (I fell in love with my Grandad's Scammell at the age of four!) Now I'm grown up,l'll continue operating them only as long as I can make a profit. Will hauliers ever get real and pass on the cost of operation and a margin?
Running a business is tough. Since 1989 when I started, it has become harder. All hauliers be warned, if you don't get more, against a background of increased costs, the grim reaper of liquidation will surely not be far away. When that happens it is too late to blame the customer or the 9overnment. But most importantly for my future prosperity, please, please, don't come into the funeral business!
• If you want to sound off about a road transport issue write to features editor Patric Cunnane or fax your views (up to 600 words) on 0181 652 8912.