Eurotunnel stands by open-sided carriages
15th May 1997
Page 7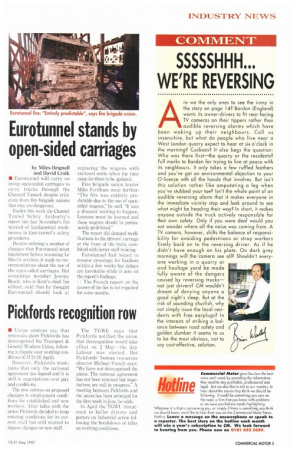 Page 7, 15th May 1997 —
Eurotunnel stands by open-sided carriages
Close
by Miles Brignall and David Craik
• Eurotunnel will carry on using open-sided carriages to carry trucks through the Channel Tunnel, despite criticism from fire brigade unions that they are dangerous.
Earlier this week the Channel Tunnel Safety Authority's report into last November's fire warned of fundamental weaknesses in Eurotunnel's safety procedures.
Despite ordering a number of changes that Eurotunnel must implement before resuming Le Shuttle services, it made no recommendations about the use of the open-sided carriages. But committee member Jeremy Beech. who is Kent's chief fire officer, said thai he thought Eurotunnel should look at replacing the wagons with enclosed units when the time came for them to be updated.
Fire brigade union leader Mike Fordham went further: "The fire was entirely predictable due to the use of opensided wagons," he said. "It was a disaster waiting to happen. Lessons must be learned and these wagons should be permanently prohibited."
The report did demand modifications to the drivers' carriage at the front of the train, combined with better stiff training.
Eurotunnel had hoped to resume crossings for hauliers within a few weeks but delays are inevitable while it acts on the report's findings.
The French report on the causes of the fire is not expected for some months.