News and Comment.
15th May 1913
Page 6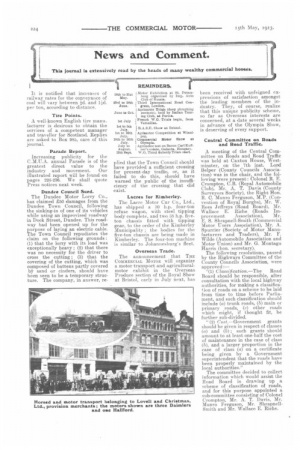 Page 6, 15th May 1913 —
News and Comment.
Close
This journal is extensively read by the heads of many wealthy commercial hooses.
It, is notified that increases of railway rates for the conveyance of coal will vary between id. and 1id. per ton, according to distance.
Tire Points.
A well-known English tire manufacturer is desirous to obtain the services of a competent manager and traveller for Scotland. Replies are asked to Box 985, care of this journal.
Parade Report.
Increasing publicity for the C.M.U.A. annual Parade is of the greatest direct value to the industry and movement. Our illustrated report will be found on pages 226-236. We shall quote Press notices next week.
Dundee Council Sued.
The Dundee Motor Lorry Co., has claimed 250 damages from the Dundee Town Council, following the sinking-in of one of its vehicles while using an improvised roadway in Dock Street, Dundee. This roadway had been opened up for the purpose of laying an electric cable. The Town Council repudiates the claim on the following grounds : (1) that the lorry with its load was exceptionally heavy ; (2) that there was no necessity for the driver to cross the cutting ; (3) that the covering of the cutting, which was composed of battens partly covered IDS, sand or cinders, should have been seen to be a temporary structure. The company, in answer, re plied that the Town Council should have provided a sufficient crossing for present-day traffic, or, as it failed to do this, should have warned the public of the insufficiency of the crossing that did exist.
Lacres for Kimberley.
The Laere Motor Car Co., Ltd., has shipped a 30 h.p. four-ton refuse wagon, with steel tipping body complete, and two 38 hp. fiveton chassis fitted with tipping gear, to the order of the Kimberley Municipality ; the bodies for the five-ton chassis are being made in Kimberley. The four-ton machine is similar to Johannesburg's fleet.
Overseas Trade.
The announcement that THE COMMERCIAL MOTOR will organize a motor transport and agriculturalmotor exhibit, in the Overseas Produce section of the Royal Show at Bristol, early in July next, has
been received with unfeigned expressions of satisfaction amongst the leading members of the industry. They, of course, realize that this unique publicity scheme, so far as Overseas interests are concerned, at a date several weeks in advance of the Olympia Show, is deserving of every support.
Central Committee on Roads and Road Traffic.
A meeting of the Central Committee on Roads and Road Traffic was held at Caxton House, Westminster, on the ith, inst. Lord Belper (County Councils Association) was in the chair, and the following were present: Colonel R. E. Crompton, C.B. (Royal Automobile Club), Mr. A. T. Davis (County Surveyors Society), the Right Hon. R. C. Munro Ferguson, M.P. (Convention of Royal Burghs), Mr. W. Rees Jeffreys (Road -B,oard), Mr. Wallace E. Riche (Roads Improvement Association), Mr. E. S. Shrapnell-Smith (Commercial Motor Users Association), Mr. A. Spurrier (Society of Motor Manufacturers and Traders), Mr. F. Wilde (Automobile Association and Motor Union) and Mr. G. Montagu Harris (hon. secretary).
The following resolutions, passed by the Highways Committee of the County Councils Association, were approved :—
"(1) C,'Ictssification.—The Road Board should be responsible, after consultation with the local highway authorities, for making a classification of roads on a scheme to be laid from time to time before Parliament., and such classification should include (a) trunk roads, (b) main or primary roads, (c) other roads which might, if thought fit, be further sub-divided.
"(2) Cost.—Government grants should be given in respect of classes (a) and (b); such grants should amount to at least one-half the cost of maintenance in the case of class (b), and a larger proportion in the case of class (a) on a, certificate being given by a Government superintendent that the roads have been properly maintained by the local authorities."
The committee decided to collect information which would assist the Road Board in drawing up a scheme of classification of roads, and for this purpose appointed a sub-committee consisting of Colonel Crompton, Mr. A. T. Davis, Mr. Munro Ferguson, Mr. ShrapnellSmith and Mr. Wallace E. Riche.
Tags
Organisations
:
Town Council
,
Society of Motor Manufacturers and Traders
,
Motor Union
,
Royal Automobile Club
,
County Councils Association
,
Highways Committee
,
Commercial Motor Users Association
,
County Surveyors Society
,
Dundee Town Council
,
Roads Improvement Association
,
Road Board
,
Central Committee on Roads and Road Traffic
,
Automobile Association