Out and Home.
15th May 1913
Page 4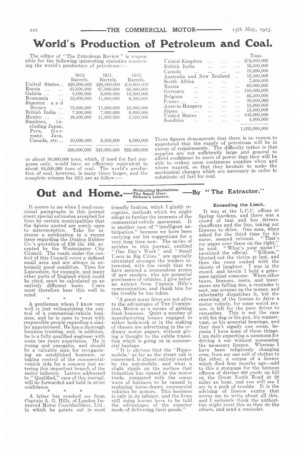 Page 4, 15th May 1913 —
Out and Home.
Close
Misleading Quotations. The Small User. Hilham's Licence.
By "The Extractor."
It occurs to me when I read occasional paragraphs in this journal anent special estimates accepted for tires by certain municipalities that the figures quoted are sorely open to misconception. Take for instance a notification in a recent issue regarding the Dunlop Rubber Co.'s quotation of £56 13s. 10d. accepted by the Westminster City Council. The roads under the control of this Council cover a defined small area and are always in extremely good condition. Tires for Lancashire, for example, and many other parts of England which could be cited, must be calculated on an entirely different basis. Users must therefore bear this well in mind.
A. gentleman whom I know very well is just relinquishing the control of a commercial-vehicle business, and he is open to treat with responsible people regarding a similar appointment. He has a thorough business training, and, in addition, he is a fully-qualified engineer with some ten years experience. He is young and• energetic, and should be a valuable man for reorganizing an established business, or taking control of the commercialvehicle side for a concern iust entering this important branch of the motor industry. Letters addressed to "Qualified," care of this journal, will be forwarded and held in strict -confidence.
A letter has reached 1T1P from Captain A. G. Hills. of London Improved Motor Coachbuilders, Ltd., in which he points out in most
friendly fashion, which I gladly recognize, methods which we might adopt to further the interests of the commercial-vehicle movement. It is another case of "intelligent anticipation," because we have been carrying out his suggestions for a very long time now. The series of articles in this journal, entitled " One Day's Work" and " Small Users in Big Cities." are specially circulated amongst the traders interested, with the result that we have secured a tremendous access of new readers, who are potential purchasers of vehicles. I give below an extract from Captain Hills's communication, and thank him for the trouble he has taken.
"A great many firms are not alive to the advantages of THE COMMERCIAL MOTOR as a means of getting fresh business. Quite a number of manufacturing houses engaged in either bodywork or in the making of chassis are advertising in the ordinary motor papers, without giving a thought to the subtle transition which is going on in commercial haulage.
"It is obvious that the 'Hippomobile.' as far as the street cab is concerned, is almost entirely ousted by the automobile, and what a slight ripple on the surface that transition has caused in the motor trade, compared with the ocean wave of business to be caused in replacing horse-drawn commercial vehicles by motors. This business is only in its infancy, and the firms still using horses have to be told the advantages of the superior mode of delivering their goods." Exceeding the Limit.
It was at the L.C.C. offices at Spring Gardens, and there was a crowd of taxi and bus drivers, chauffeurs and the like, taking out licences to drive. One man, when asked for the third time for his name, seemed reticent. "That's my paper over there on the right." he said. "What's your name ? " persisted the official. " Kilham," blurted out the victim at last, and then the room rocked with the shouts of laughter. I was in the crowd, and herein I hold a grievance against someone. When other taxes, licences, rents, and insurances are falling due, a reminder is sent, one scrapes up the money, and reluctantly dispatches it, but the renewing of the licence to drive a motor vehicle, for some weird reason, is left for the poor driver to remember. This is not the case with his dog or his gun, his manservant, or his armorial bearings, and they don't signify one scrap, because I have none of these things. I am daily expecting a summons for driving a ear without possessing the necessary licence. Whereas I have been religiously changing over, from my one suit of clothes to the other, a corpse of a licence which died four months ago—add to this a stoppage for the heinous offence of driving 220 yards up hill on the Great North Road at 28 miles an hour, and you will see I am in a peek of trouble. It is the advising of licence expiry that moves me to write about all this. and I seriously think the authorities might treat this as they do the others, and send a reminder.