Mr. Gordon Selfridge says : "A Most Excellent and lasting Advertisement."
15th May 1913
Page 3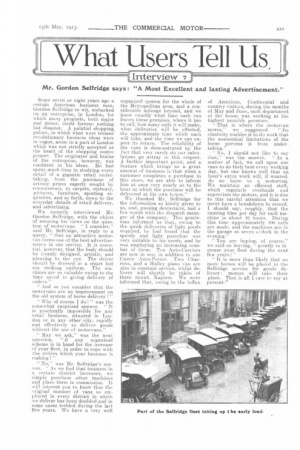 Page 3, 15th May 1913 —
Mr. Gordon Selfridge says : "A Most Excellent and lasting Advertisement."
Close
Some seven or eight years ago a certain American business man, Gordon Selfridge to wit, embarked on an enterprise, in London, for which many prophets, both major and minor, could foresee nothing but disaster. A palatial shopping, palace, in which what were termed revolutionary business ideas were in vogue, arose in a part of London which was not strictly accepted as the heart of the shopping centre proper. The originator and brains of the enterprise, however, was confident in his ideas. He had spent much time in studying every detail of a gigantic retail undertaking, from the purchase of artistic prizes eagerly sought. by connoisseurs, to carpets, statuary, pictures, furniture, sporting requisites, and so forth, down to the everyday details of retail delivery, and advertising.
We recently interviewed Mr. Gordon Selfridge, with the object of securing his views on the question of motorvans. " I consider," said Mr. Selfridge, in reply to a query, " that an attractive motorvan forms one of the best advertisements in our service, it is essential, however, that the body should be cleanly designed, artistic, and pleasing to the eye. The driver should be dressed in a smart but not striking uniform. The machines are so valuable owing to the time saved in giving delivery of orders."
" And so you consider that the motorvans are an improvement on the old system of horse delivery'? "
" Why of course I do! " was the somewhat surprised answer. " It is practically impossible for any retail business, situated in London or in any other city-, rapidly and effectively to deliver goods without the use of motorvans."
" May we ask," was the next question, " if any organized scheme is in hand for the increase of your fleet, in order to cope with the strides which your business is making?
" No," was Mr. Selfridge's answer. " As we find that business in a certain district increases, we simply purchase other machines and place them in commission. It will interest you to know that the original number of vans so employed in every district in which we deliver has been doubled and in some cases trebled during the last five years. We have a very well organized system for the whole of the Metropolitan area, and a considerable mileage beyond, and we know exactly what time each van leaves these premises, where it has to call, how many calls it will make, what deliveries will be effected, the approximate time which each will take, and the time we can expect its return. The reliability of the vans is demonstrated by the fact that very rarely do our calculations go astray in this respect. A further important point, and a feature which brings us a great amount of business is that when a customer completes a purchase in this store, we are able to inform him at once very nearly as to the hour at which the purchase will be delivered at his own house."
We thanked Mr. Selfridge for the information so kindly given to us, and, passing downstairs, had a few words with the dispatch manager of the company. This gentleman informed us that, owing to the quick deliveries of light goods required, he had found that the speedy and light parcelcar was very suitable to his needs, and he was employing an increasing number of them. Ten Auto-Carriers are now in use, in addition to one Currie Auto-Porter. Two Charrons, and a Halley piano van are also in constant service, whilst delivery will shortly be taken of three 15-cwt. Napicrs. We were informed that, owing to the influx
of American, Continental and country visitors, during the months of May and June, each department of the house was working at the highest possible pressure.
" That is where the motorvan scores," we suggested. " Its elasticity enables it to do work that the anatomical limitations of the horse prevent it from undertaking."
" No, I should not like to say that," was the answer. " As a matter of fact, we call upon our vans to do their best every. working day, but one knows well that aa hour's extra work will, if wanted, do no harm to a motorvan. We maintain an efficient staff, which regularly overhauls and supervises the motors, and it is due to this careful attention that we never have a breakdown to record. I should say, roughly, that the running time per day for each machine is about 10 hours. During this time approximately 100 calls are made, and the machines are in the garage at seven o'clock in the evening.'
" You are, hoping, of course," we said on leaving, " greatly to increase your fleet during the next few years'? "
"It is more than likely that no more horses will be placed in the Selfridge service for goods delivery : motors will take their place. That is all I care to say at present."