The C.M.U.A. Championship Winners of Last Year.
15th May 1913
Page 25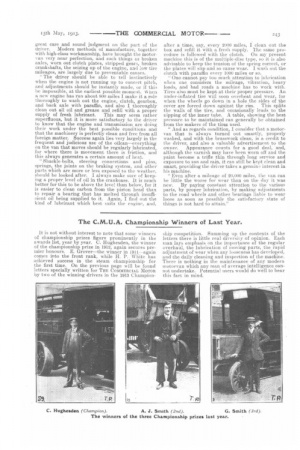 Page 25, 15th May 1913 —
The C.M.U.A. Championship Winners of Last Year.
Close
It is not without interest to note that some winners of championship prizes figure prominently in the awards list, year by year. C. Hughesden, the winner of the championship prize in 1912, again secures premier honours. E. Grover—the winner in 1.911,—again comes into the front rank, while H. P. White has achieved success in the steam championship for the first time. On the previous page will be found letters specially written for THE COMMERCIAL MOTOR by two of the winning drivers in the 1913 Champion
ship competition. Summing up the contents of the letters there is little real diversity of opinion. Each man lays emphasis on the importance of the regular overhaul, the lubrication of moving parts, the rapid adjustment of wear when any looseness has developed, and the daily cleaning and inspection of the machine. There is nothing in the maintenance of any modern motorvan which any man of average intelligence cannot undertake. Potential users would do well to bear this fact in mind.