Banks are still shying away from haulage, says MAN MD
15th March 2012
Page 9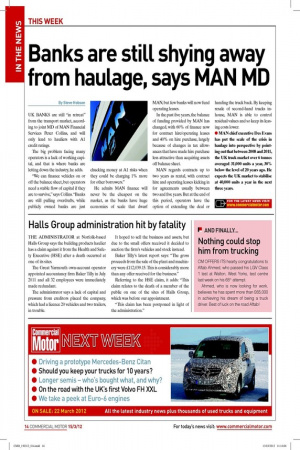 Page 9, 15th March 2012 —
Banks are still shying away from haulage, says MAN MD
Close
Keywords :
Business
,
Law
,
Business Law
,
Contract Law
,
Finance
,
Leasing
,
Sales
,
Operating Lease
,
Renting
,
Off-balance-sheet
,
Bank
,
Hire Purchase
,
Business / Finance
By Steve Hobson
UK BANKS are still "in retreat" from the transport market, according to joint MD of MAN Financial Services Peter Collins, and will only lend to hauliers with A1 credit ratings.
The big problem facing many operators is a lack of working capital, and that is where banks are letting down the industry, he adds.
"We can inance vehicles on or off the balance sheet, but operators need a stable low of capital if they are to survive," says Collins. "Banks are still pulling overdrafts, while publicly owned banks are just chucking money at A1 risks when they could be charging 1% more for other borrowers." He admits MAN inance will never be the cheapest on the market, as the banks have huge economies of scale that dwarf MAN, but few banks will now fund operating leases.
In the past ive years, the balance of funding provided by MAN has changed, with 60% of inance now for contract hire/operating leases and 40% on hire purchase, largely because of changes in tax allowances that have made hire purchase less attractive than acquiring assets off balance sheet.
MAN regards contracts up to two years as rental, with contract hire and operating leases kicking in for agreements usually between two and ive years. But at the end of this period, operators have the option of extending the deal or handing the truck back. By keeping resale of second-hand trucks inhouse, MAN is able to control residual values and so keep its leasing costs lower.
● MAN chief executive Des Evans has put the scale of the crisis in haulage into perspective by pointing out that between 2008 and 2011, the UK truck market over 6 tonnes averaged 31,000 units a year, 30% below the level of 20 years ago. He expects the UK market to stabilise at 40,000 units a year in the next three years.