York considers an LEZ to target LGVs in city centre
15th March 2012
Page 7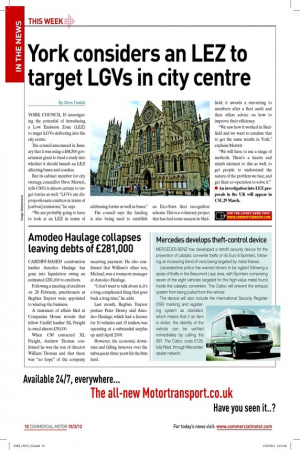 Page 7, 15th March 2012 —
York considers an LEZ to target LGVs in city centre
Close
By Chris Tindall YORK COUNCIL IS investigating the potential of introducing a Low Emission Zone (LEZ) to target LGVs delivering into the city centre.
The council announced in January that it was using a £68,500 government grant to fund a study into whether it should launch an LEZ affecting buses and coaches.
But its cabinet member for city strategy, councillor Dave Merrett, tells CM it is almost certain to target lorries as well. "LGVs are disproportionate emitters in terms of [carbon] emissions," he says.
"We are probably going to have to look at an LEZ in terms of addressing lorries as well as buses." The council says the funding is also being used to establish an Eco-Stars leet recognition scheme. This is a voluntary project that has had some success in Shef ield; it awards a star-rating to members after a leet audit and then offers advice on how to improve their eficiency.
"We saw how it worked in Shefield and we want to emulate that to get the same results in York," explains Merrett.
"We will have to use a range of methods. There's a hearts and minds element to this as well, to get people to understand the nature of the problem we face, and get their co-operation to solve it."
● An investigation into LEZ proposals in the UK will appear in CM, 29 March.