Spied: the revamped Scania undergoing testing in Sweden
15th March 2012
Page 6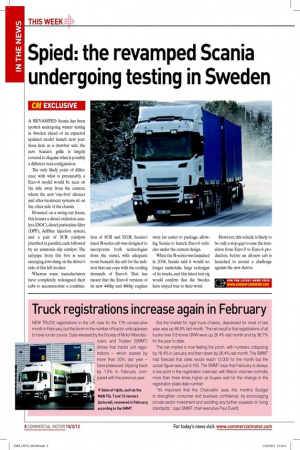 Page 6, 15th March 2012 —
Spied: the revamped Scania undergoing testing in Sweden
Close
EXCLUSIVE
A REVAMPED Scania has been spotted undergoing winter testing in Sweden ahead of an expected updated model launch next year. Seen here as a drawbar unit, the new Scania's grille is largely covered to disguise what is possibly a different vent coniguration.
The only likely point of difference with what is presumably a Euro-6 model would be seen on the side away from the camera, where the new 'one-box' silencer and after-treatment systems sit on the other side of the chassis.
Mounted on a swing-out frame, this houses a diesel oxidation catalyst (DOC), diesel particulate ilter (DPF), AdBlue injection system, and a pair of SCR catalysts plumbed in parallel, each followed by an ammonia slip catalyst. The tail-pipe from this box is seen emerging, low-slung on the driver's side of this left-hooker.
Whereas some manufacturers have completely redesigned their cabs to accommodate a combina
tion of SCR and EGR, Scania's latest R-series cab was designed to incorporate both technologies from the outset, with adequate room beneath the cab for the radiator that can cope with the cooling demands of Euro-6. That has meant that the Euro-6 versions of its new 440hp and 480hp engines were far easier to package, allowing Scania to launch Euro-6 vehicles under the current design.
When the R-series was launched in 2004, Scania said it would no longer undertake large redesigns of its trucks, and this latest test rig would conirm that the Swedes have stayed true to their word. However, this vehicle is likely to be only a stop-gap to ease the transition from Euro-5 to Euro-6 production, before an all-new cab is launched to mount a challenge against the new Actros.