TOP STORIES THIS WEEK
15th March 2012
Page 5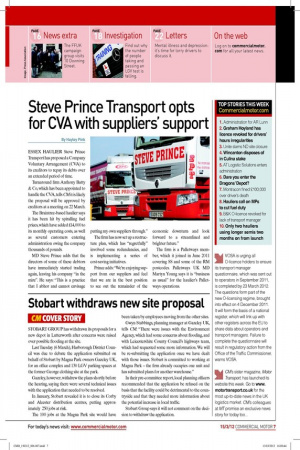 Page 5, 15th March 2012 —
TOP STORIES THIS WEEK
Close
Commercialmotor.com
1. Administration for AR Lunn 2. Graham Hoyland has licence revoked for drivers' hours irregularities 3. Unite slams ND site closure 4. Wincanton disposes of in Culina stake 5. AT Logistic Solutions enters administration 6. Dare you enter the Dragons' Depot?
7. Montracon fined £100,000 over driver's death 8. Hauliers call on MPs to cut fuel duty 9. B&K O-licence revoked for lack of transport manager 10. Only two hauliers using longer semis two months on from launch VOSA is urging all O-licence holders to ensure its transport manager questionnaire, which was sent out to operators in September 2011, is completed by 23 March 2012. The questions form part of the new O-licensing regime, brought into effect on 4 December 2011. It will form the basis of a national register, which will link up with other registers across the EU to share data about operators and transport managers. Failure to complete the questionnaire will result in regulatory action from the Office of the Traffic Commissioner, warns VOSA.
CM's sister magazine, Motor Transport, has launched its website this week. Go to www. motortransport.co.uk for the most up-to-date news in the UK logistics market. CM's colleagues at MT promise an exclusive news story for today too...