International competition
15th March 2012
Page 34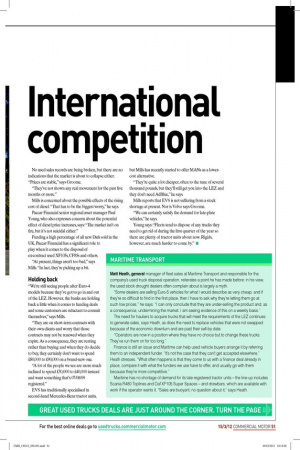 Page 34, 15th March 2012 —
International competition
Close
No used sales records are being broken, but there are no indications that the market is about to collapse either. "Prices are stable," says Groome.
"They've not shown any real movement for the past ive months or more." Mills is concerned about the possible effects of the rising cost of diesel. "That has to be the biggest worry," he says.
Paccar Financial senior regional asset manager Paul Young, who also expresses concern about the potential effect of diesel price increases, says: "The market isn't on ire, but it's not suicidal either." Funding a high percentage of all new Dafs sold in the UK, Paccar Financial has a signiicant role to play when it comes to the disposal of ex-contract used XF105s, CF85s and others.
"At present, things aren't too bad," says Mills. "In fact, they're picking up a bit.
Holding back
"We're still seeing people after Euro-4 models because they've got to go in and out of the LEZ. However, the banks are holding back a little when it comes to funding deals and some customers are reluctant to commit themselves," says Mills.
"They are on short-term contracts with their own clients and worry that those contracts may not be renewed when they expire. As a consequence, they are renting rather than buying: and when they do decide to buy, they certainly don't want to spend £80,000 to £90,000 on a brand-new one.
"A lot of the people we see are more much inclined to spend £30,000 to £40,000 instead and want something that's 07/08/09 registered." EVS has traditionally specialised in second-hand Mercedes-Benz tractor units, but Mills has recently started to offer MANs as a lowercost alternative.
"They're quite a lot cheaper, often to the tune of several thousand pounds, but they'll still get you into the LEZ and they don't need AdBlue," he says.
Mills reports that EVS is not suffering from a stock shortage at present. Nor is Volvo says Groome.
"We can certainly satisfy the demand for late-plate vehicles," he says.
Young says: "Fleets tend to dispose of any trucks they need to get rid of during the irst quarter of the year so there are plenty of tractor units about now. Rigids, however, are much harder to come by." ■
MARITIME TRANSPORT
Matt Heath, general manager of fleet sales at Maritime Transport and responsible for the company's used truck disposal operation, reiterates a point he has made before: in his view, the used stock drought dealers often complain about is largely a myth.
"Some dealers are selling Euro-5 vehicles for what I would describe as very cheap: and if they're so difficult to find in the first place, then I have to ask why they're letting them go at such low prices," he says. "I can only conclude that they are under-selling the product and, as a consequence, undermining the market. I am seeing evidence of this on a weekly basis." The need for hauliers to acquire trucks that will meet the requirements of the LEZ continues to generate sales, says Heath, as does the need to replace vehicles that were not swapped because of the economic downturn and are past their sell-by date.
"Operators are now in a position where they have no choice but to change these trucks. They've run them on for too long." Finance is still an issue and Maritime can help used vehicle buyers arrange it by referring them to an independent funder. "It's not the case that they can't get accepted elsewhere," Heath stresses. "What often happens is that they come to us with a finance deal already in place, compare it with what the funders we use have to offer, and usually go with them because they're more competitive." Maritime has no shortage of demand for its late-registered tractor units – the line-up includes Scania R480 Toplines and Daf XF105 Super Spaces – and drawbars, which are available with work if the operator wants it. "Sales are buoyant, no question about it," says Heath.