The world's
15th March 2012
Page 27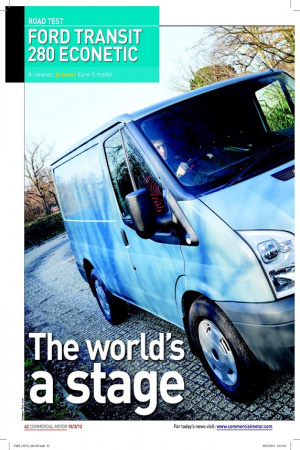 Page 28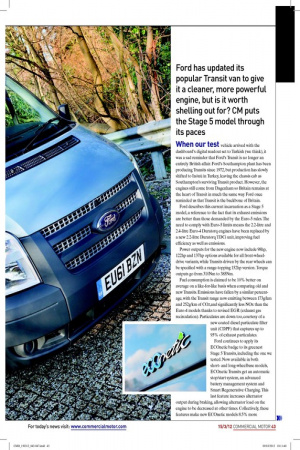 Page 29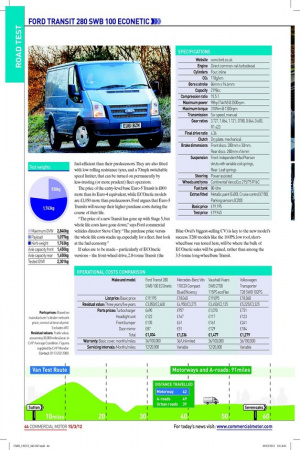 Page 30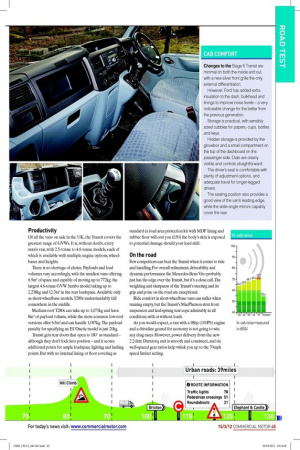 Page 31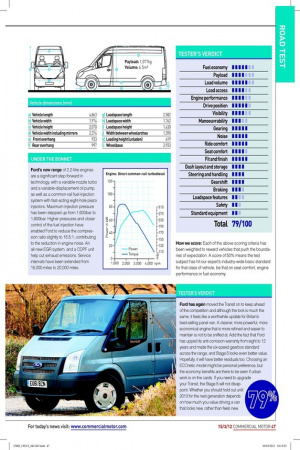 Page 27, 15th March 2012 —
The world's
Close
Keywords :
Transport
,
Private Transport
,
Vans
,
Hatchbacks
,
Subcompact Cars
,
Econetic
,
Ford Of Europe
,
Ford Transit
,
Ford Motor Company
,
Ford Duratorq Engine
,
Mini
a stage
FORD TRANSIT
280 ECONETIC A cleaner, greener Euro-5 model
Ford has updated its popular Transit van to give it a cleaner, more powerful engine, but is it worth shelling out for? CM puts the Stage 5 model through its paces
When our test vehicle arrived with the dashboard's digital readout set to Turkish (we think), it was a sad reminder that Ford's Transit is no longer an entirely British affair. Ford's Southampton plant has been producing Transits since 1972, but production has slowly shifted to Inönü in Turkey, leaving the chassis cab as Southampton's surviving Transit product. However, the engines still come from Dagenham so Britain remains at the heart of Transit in much the same way Ford once reminded us that Transit is the backbone of Britain.
Ford describes this current incarnation as a Stage 5 model, a reference to the fact that its exhaust emissions are better than those demanded by the Euro-5 rules. The need to comply with Euro-5 limits means the 2.2-litre and 2.4-litre Euro-4 Duratorq engines have been replaced by a new 2.2-litre Duratorq TDCi unit, improving fuel eficiency as well as emissions.
Power outputs for the new engine now include 98hp, 122hp and 137hp options available for all front-wheeldrive variants, while Transits driven by the rear wheels can be speciied with a range-topping 152hp version. Torque outputs go from 310Nm to 385Nm.
Fuel consumption is claimed to be 10% better on average on a like-for-like basis when comparing old and new Transits. Emissions have fallen by a similar percentage, with the Transit range now emitting between 173g/km and 252g/km of CO2,and signiicantly less NOx than the Euro-4 models thanks to revised EGR (exhaust gas recirculation). Particulates are down too, courtesy of a new coated diesel particulate ilter unit (CDPF) that captures up to 95% of exhaust particulates.
Ford continues to apply its ECOnetic badge to its greenest Stage 5 Transits, including the one we tested. Now available in both shortand long-wheelbase models, ECOnetic Transits get an automatic stop/start system, an advanced battery management system and Smart Regenerative Charging. This last feature increases alternator output during braking, allowing alternator load on the engine to be decreased at other times. Collectively, these features make new ECOnetic models 8.5% more fuel-eficient than their predecessors. They are also itted with low rolling resistance tyres, and a 70mph switchable speed limiter, that can be turned on permanently by less-trusting (or more prudent) leet operators.
The price of the entry-level base Euro-5 Transit is £800 more than its Euro-4 equivalent, while ECOnetic models are £1,050 more than predecessors. Ford argues that Euro-5 Transits will recoup their higher purchase costs during the course of their life.
"The price of a new Transit has gone up with Stage 5, but whole life costs have gone down," says Ford commercial vehicles director Steve Clary. "The purchase price versus the whole life costs stacks up, especially for a leet. Just look at the fuel economy." If sales are to be made – particularly of ECOnetic versions – the front-wheel drive, 2.8-tonne Transit (the Blue Oval's biggest-selling CV) is key to the new model's success. T280 models like the 100PS, low roof, shortwheelbase van tested here, will be where the bulk of ECOnetic sales will be gained, rather than among the 3.5-tonne long-wheelbase Transit.
Productivity
Of all the vans on sale in the UK, the Transit covers the greatest range of GVWs. It is, without doubt, every man's van, with 2.5-tonne to 4.6-tonne models, each of which is available with multiple engine options, wheelbases and heights.
There is no shortage of choice. Payloads and load volumes vary accordingly, with the smallest vans offering 6.5m3 of space and capable of moving up to 772kg: the largest 4.6-tonne GVW Jumbo model taking up to 2,238kg and 12.3m3 in the rear loadspace. Available only as short-wheelbase models, T280s understandably fall somewhere in the middle.
Medium-roof T280s can take up to 1,073kg and have 8m3 of payload volume, while the more common low-roof versions offer 6.5m3 and can handle 1,097kg. The payload penalty for specifying an ECOnetic model is just 20kg.
Transit gets rear doors that open to 180° as standard – although they don't lock into position – and it scores additional points for ample loadspace lighting and lashing points. But with no internal lining or loor covering as standard (a load area protection kit with MDF lining and rubber loor will cost you £150) the body's skin is exposed to potential damage should your load shift.
On the road
Few competitors can beat the Transit when it comes to ride and handling. For overall refnement, driveability and dynamic performance the Mercedes-Benz Vito probably just has the edge over the Transit, but it's a close call. The weighting and sharpness of the Transit's steering and its grip and poise on the road are exceptional.
Ride comfort in short-wheelbase vans can suffer when running empty, but the Transit's MacPherson strut front suspension and leaf-sprung rear cope admirably in all conditions, with or without loads.
As you would expect, a van with a 98hp (100PS) engine and a driveline geared for economy is not going to win any drag races. However, power delivery from the new 2.2-litre Duratorq unit is smooth and consistent, and six well-spaced gear ratios help whisk you up to the 70mph speed limiter setting.
CAB COMFORT
Changes to the Stage 5 Transit are minimal on both the inside and out, with a new silver front grille the only external differentiation.
However, Ford has added extra insulation to the dash, bulkhead and linings to improve noise levels – a very noticeable change for the better from the previous generation.
Storage is practical, with sensibly sized cubbies for papers, cups, bottles and keys.
Hidden storage is provided by the glovebox and a small compartment on the top of the dashboard on the passenger side. Dials are clearly visible and controls straightforward.
The driver's seat is comfortable with plenty of adjustment options, and adequate travel for longer-legged drivers.
The seating position also provides a good view of the van's leading edge, while the wide-angle mirrors capably cover the rear. Vehicle dimensions (mm) a) Vehicle length 4,863 b) Vehicle width 1,974 c) Vehicle height 2,070 d) Vehicle width including mirrors 2,374 e) Front overhang 933 f) Rear overhang 997 g) Loadspace length 2,582 h) Loadspace width 1,762 i) Loadspace height 1,430 j) Width between wheelarches 1,390 k) Loading height (unladen) 619 l) Wheelbase 2,933
TESTER'S VERDICT
Fuel economy IIIIIII Payload IIIIIII Load volume IIIIIII Load access IIIIII Engine performance IIIIII Drive position IIIIII Visibility IIIIII Manoeuvrability IIIII Gearing IIIII Noise IIIII Ride comfort IIIII Seat comfort IIIII Fit and finish IIIII Dash layout and storage IIII Steering and handling IIII Gearshift IIII Braking IIII Loadspace features IIII Safety III Standard equipment III Total 79/100 UNDER THE BONNET Ford's new range of 2.2-litre engines are a significant step forward in technology, with a variable-nozzle turbo and a variable-displacement oil pump, as well as a common-rail fuel-injection system with fast-acting eight-hole piezo injectors. Maximum injection pressure has been stepped up from 1,600bar to 1,800bar. Higher pressures and closer control of the fuel injection have enabled Ford to reduce the compression ratio slightly to 15.5:1, contributing to the reduction in engine noise. An all-new EGR system, and a CDPF unit help cut exhaust emissions. Service intervals have been extended from 15,000 miles to 20,000 miles. How we score: Each of the above scoring criteria has been weighted to reward vehicles that push the boundaries of expectation. A score of 50% means the test subject has hit our expert's industry-wide basic standard for that class of vehicle, be that on seat comfort, engine performance or fuel economy.
TESTER'S VERDICT Ford has again moved the Transit on to keep ahead of the competition and although the look is much the same, it feels like a worthwhile update for Britain's best-selling panel van. A cleaner, more powerful, more economical engine that is more refined and easier to maintain is not to be sniffed at. Add the fact that Ford has upped its anti-corrosion warranty from eight to 12 years and made the six-speed gearbox standard across the range, and Stage 5 looks even better value. Hopefully, it will have better residuals too. Choosing an ECOnetic model might be personal preference, but the economy benefits are there to be seen if urban work is on the cards. If you need to upgrade your Transit, the Stage 5 will not disap
point. Whether you should hold out until 2013 for the next generation depends on how much you value driving a van that looks new, rather than feels new.