Lost in translation
15th March 2012
Page 19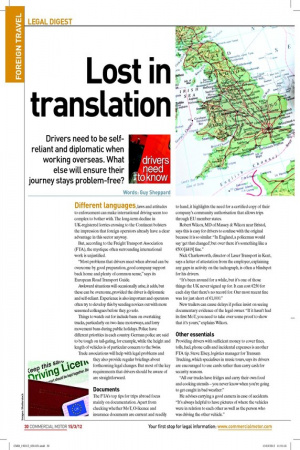 Page 19, 15th March 2012 —
Lost in translation
Close
Drivers need to be selfreliant and diplomatic when working overseas. What else will ensure their journey stays problem-free?
Words: Guy Sheppard Different languages, laws and attitudes to enforcement can make international driving seem too complex to bother with. The long-term decline in UK-registered lorries crossing to the Continent bolsters the impression that foreign operators already have a clear advantage in this sector anyway.
But, according to the Freight Transport Association (FTA), the mystique often surrounding international work is unjustiied.
"Most problems that drivers meet when abroad can be overcome by good preparation, good company support back home and plenty of common sense," says its European Road Transport Guide.
Awkward situations will occasionally arise, it adds, but these can be overcome, provided the driver is diplomatic and self-reliant. Experience is also important and operators often try to develop this by sending novices out with more seasoned colleagues before they go solo.
Things to watch out for include bans on overtaking trucks, particularly on two-lane motorways, and lorry movement bans during public holidays. Police have different priorities in each country. German police are said to be tough on tail-gating, for example, while the height and length of vehicles is of particular concern to the Swiss.
Trade associations will help with legal problems and they also provide regular brieings about forthcoming legal changes. But most of the key requirements that drivers should be aware of are straightforward.
Documents
The FTA's top tips for trips abroad focus mainly on documentation. Apart from checking whether MoT, O-licence and insurance documents are current and readily to hand, it highlights the need for a certiied copy of their company's community authorisation that allows trips through EU member states.
Robert Wilcox, MD of Massey & Wilcox near Bristol, says this is easy for drivers to confuse with the original because it is so similar. "In England, a policeman would say 'get that changed', but over there it's something like a €500 [£419] ine." Nick Charlesworth, director of Laser Transport in Kent, says a letter of attestation from the employer, explaining any gaps in activity on the tachograph, is often a blindspot for his drivers.
"It's been around for a while, but it's one of those things the UK never signed up for. It can cost €250 for each day that there's no record for. Our most recent ine was for just short of €1,000." New trailers can cause delays if police insist on seeing documentary evidence of the legal owner. "If it hasn't had its irst MoT, you need to take over some proof to show that it's yours," explains Wilcox.
Other essentials
Providing drivers with suficient money to cover ines, tolls, fuel, phone calls and incidental expenses is another FTA tip. Steve Elsey, logistics manager for Transam Trucking, which specialises in music tours, says its drivers are encouraged to use cards rather than carry cash for security reasons.
"All our trucks have fridges and carry their own food and cooking utensils – you never know when you're going to get caught in bad weather." He advises carrying a good camera in case of accidents. "It's always helpful to have pictures of where the vehicles were in relation to each other as well as the person who was driving the other vehicle."