And then there were none...
15th March 2012
Page 11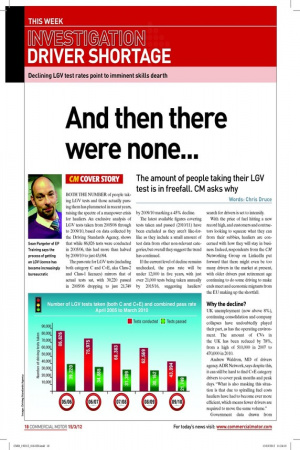 Page 12
Page 11, 15th March 2012 —
And then there were none...
Close
DRIVER SHORTAGE
Declining LGV test rates point to imminent skills dearth
The amount of people taking their LGV test is in freefall. CM asks why
Words: Chris Druce
BOTH THE NUMBER of people taking LGV tests and those actually passing them has plummeted in recent years, raising the spectre of a manpower crisis for hauliers. An exclusive analysis of LGV tests taken from 2005/06 through to 2009/10, based on data collected by the Driving Standards Agency, shows that while 86,826 tests were conducted in 2005/06, this had more than halved by 2009/10 to just 43,094.
The pass rate for LGV tests (including both category C and C+E, aka Class-2 and Class-1 licences) mirrors that of actual tests sat, with 39,220 passed in 2005/06 dropping to just 21,749 by 2009/10 marking a 45% decline.
The latest available igures covering tests taken and passed (2010/11) have been excluded as they aren't like-forlike as they include a small amount of test data from other non-relevant categories, but overall they suggest the trend has continued.
If the current level of decline remains unchecked, the pass rate will be under 12,000 in ive years, with just over 21,000 tests being taken annually by 2015/16, suggesting hauliers' search for drivers is set to intensify.
With the price of fuel hitting a new record high, and customers and contractors looking to squeeze what they can from their subbies, hauliers are concerned with how they will stay in business. Indeed, respondents from the CM Networking Group on LinkedIn put forward that there might even be too many drivers in the market at present, with older drivers past retirement age continuing to do some driving to make ends meet and economic migrants from the EU making up the shortfall.
Why the decline?
UK unemployment (now above 8%), continuing consolidation and company collapses have undoubtedly played their part, as has the operating environment. The amount of CVs in the UK has been reduced by 7.8%, from a high of 510,000 in 2007 to 470,000 in 2010.
Andrew Waldron, MD of drivers agency ADR Network, says despite this, it can still be hard to ind C+E category drivers to cover peak months and peak days. "What is also masking this situation is that due to spiralling fuel costs hauliers have had to become ever more eficient, which means fewer drivers are required to move the same volume." Government data drawn from Jobcentre Plus backs this up, with uniled vacancies for LGV drivers up from 115,690 in the February 2008/ January 2009 period to 235,663 in the corresponding 2011/12 period.
Bosses at some of the larger irms are worried. Research from PricewaterhouseCoopers found almost half (45%) of the 98 transport bosses surveyed say the struggle to attract new workers is a "major threat "to the long-term viability of their businesses.
Waldron adds that a survey of his regular temps suggests a number of mature drivers intend to jack in their jobs rather than complete their Driver CPC by the 2014 deadline. Given a hopeful uplift in the economy, this could create a perfect storm of rising demand for drivers just as the talent pool dries up.
Barriers
Sean Pargeter is a director at EP Training in Great Bookham, Surrey. He believes that since the advent of the Driver CPC in 2009, the process of getting an LGV licence has become increasingly bureaucratic, with in effect six examinations (including the medical) to go through. "There's a lot of hoops to jump through if you want to get into this industry," he says.
While Pargeter, who also runs the HGV/LGV Training website, says most would-be drivers accept there is a cost associated with getting their licence, it can be another stumbling block. Getting trained and qualiied will likely set you back anywhere from £1,300 to £2,500 all in (depending on what you're going for), and these days company sponsors are rare.
Another issue is that insuring newly qualiied drivers, especially youngsters, is "prohibitive" , according to Peter Masters, MD of Leighton Buzzard's Miniclipper Logistics. Masters says that with the insurance excess for drivers under 25 being so high, and the shift within road transport to safe and fuel-eficient drivers, "we ind the typical age we recruit drivers at to be 35 to 45" .
Image problem
Two-year-old boys love nothing more than playing with their trucks, yet by the time they reach school most appear to be looking elsewhere. Pay is undoubtedly a factor, parents and career advisers another, but ultimately it's the occupation's image that weighs heavily.
"Unfortunately, LGV driving is still seen by many as unattractive, with limited career progression and relatively poor pay for long hours," says Stephen Slaney, owner of TDL Consulting & Interim Management.
"Public perception of LGV drivers has improved, but the image needs to continue improving. The industry needs to attract not just more drivers but better-quality drivers and to reward them commensurate with their responsibilities and the ambassadorial role they play when driving their employer's valuable equipment," adds Slanley.
ADR's Waldron is so concerned, he plans to open two training schools to update existing LGV licence holders to drive articulated lorries. At the lower end of the market, he suggests the industry needs to have a conversation about encouraging new drivers. "We need to reconsider the current postqualiication requirement of one or two years and explore other options." One option could be new drivers working for a lower rate for a few weeks while they buddy with an experienced driver to learn the ropes.
Apprenticeships are another option to attract younger drivers. Stobart launched an apprenticeship scheme last September, based at its drivers' academy in Widnes. Although it covers all aspects of the business, it is expected to provide drivers too. Getting the irm's insurers on board is important too, negating the risk of high insurance costs for the newly qualiied.
However, perhaps road transport is missing the simplest sell. "My dad always used to say that if you had an LGV licence you'd never be out of work," says Pargeter. "These days I'd add, if you're good, and have an LGV licence you'll never be out of work." With the number of tests taken and passed in freefall, this is ringing ever more true. ■
SUPERBRANDS
While image isn't everything, transport's lack of household names appears to be holding it back.
Eddie Stobart is the only haulier to make the top 20 in this year's annual Superbrands list (business), which tells its own story. That an employer the size of Wincanton comes only 287th in the list (led by Rolls-Royce) says all you need to know about the battle for heart and minds still to be fought.