Tolls furore gathers
15th June 1985
Page 7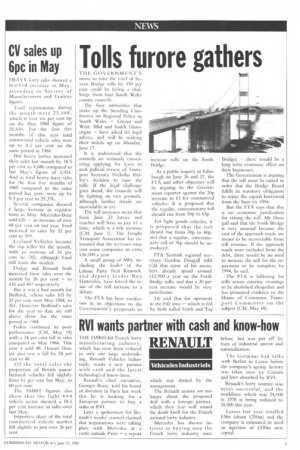 Page 7, 15th June 1985 —
Tolls furore gathers
Close
THE GOVERNMENT'S move to raise the level of Severn Bridge tolls by 150 per cent could be facing a challenge from four South Wales county councils.
The four authorities that make up the Standing Conference on Regional Policy in South Wales — Gwent and West, Mid and South Glamorgan — have asked for legal advice, and will be making their minds up on Monday, June 17.
It is understood that the councils are seriously considering applying for leave to seek judicial review of Transport Secretary Nicholas Ridley's decision to raise the tolls. If the legal challenge goes ahead, the councils will be fighting on two grounds, although further details are unavailable as yet.
The toll increases mean that from June 23 lorries and
coaches will have to pay a time, which is a 60p increase (CM, June 1). The Freight Transport Association has estimated that the increases may cost some companies an extra £16,000 a year.
A small group of MPs, including the leader of the Labour Party Neil Kinnock and deputy leader Roy Hattersley, have forced the issue of the toll increase to a. debate.
The FTA has been vociferous in its objections to the Government's proposals to increase tolls on the Forth Bridge.
At a public inquiry in Edinburgh on June 26 and 27, the FTA and other objectors will be arguing to the Government reporter against the 20p increase to SA for commercial vehicles. It is proposed that the regular, concessionary toll should rise from 50p to 65p.
For light goods vehicles, it is proposed that the toll should rise from 30p to 40p, and that a regular, concessionary toll of 36p should be introduced.
FTA Scottish regional secretary Gordon Dougall told CM that some of his members already spend around £12,000 a year on the Forth Bridge tolls, and that a 20 per cent increase would be very unwelcome.
I le said that for operators in the Fife area — which is fed by both tolled Forth and Tay Bridges — there would be a long term economic effect on their businesses.
The Government is arguing that the toll must be raised in order that the Bridge Board fulfils its statutory obligation to repay the capital borrowed from the State by 1994.
But the FTA says that this is no economic justification for .raising the toll. Mr Dongall said that the Forth Bridge. is very unusual because the cost of the approach roads are meant to be recoverable from toll revenue. If the approach roads were excluded from the debt, there would be no need to increase the toll for the repayment to he complete by 1994, he said.
The FTA is lobbying for tolls across esturine crossings to be abolished altogether and has presented evidence to the House of Commons Transport Committee on the subject (CM, May 18).