CV sales up
15th June 1985
Page 7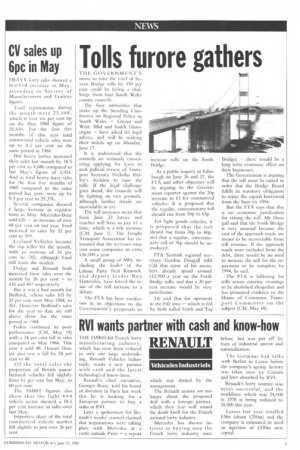 Page 7, 15th June 1985 —
CV sales up
Close
6pc in May.
HEAVY lorry sales showed a marked increase in May, according to Society of Manufacturers and Traders figures.
Total registrations during the month were 23,0 4 8, which is over six per cent up on the May 1984 figure of 21,610. For the first five months of this year total commercial vehicle sales were up to 4.3 per cent on the same period in 1984.
But heavy lorries increased their sales last month by 18.5 per cent to 4,686 compared to last May's figure of 3,954.
And in total heavy lorry sales for the first five months of 1985 compared to the same period last year, were up by 9.3 per cent to 23,376.
Several companies showed a large increase in registra tions in May. Mercedes-Benz. sold 626 — an increase of over 68 per cent on last year. Ford increased its sales by 52 per cent to 769.
Leyland Vehicles became the top seller for the month, with an increase of 34 per cent to 782, although Ford still leads the market.
Dodge and Renault both increased their sales over the month by 26 per cent — to 416 and 447 respectively.
But it was a had month for Bedford, whose sales fell by 33 per cent over May 1984, to 351. However Bedford's sales for the year to date are still above those for the same period in 1984.
Foden continued its poor performance (CM, May 18)
with a 24 per cent fall in sales compared to May 1984. This year it sold 48. 1 lestair Dennis also saw a fall by 24 per cent to 4-8.
Of the total sales the proportion of British manu factured vehicles fell slightly from 61 per cent last May, to 60 per cent.
The SMMT figures also show that the light 4x 4 Vehicle sector showed a 18.5 per cent increase in sales over last May. Importers share of the total commercial vehicle market fell slightly to just over 36 per cent.