GEARING UP
15th June 1985
Page 67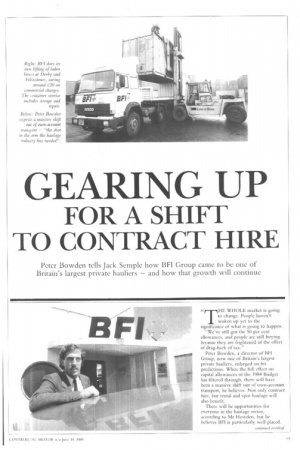 Page 68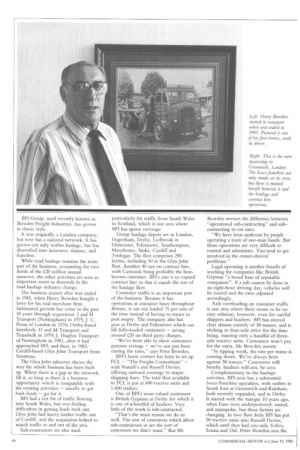 Page 69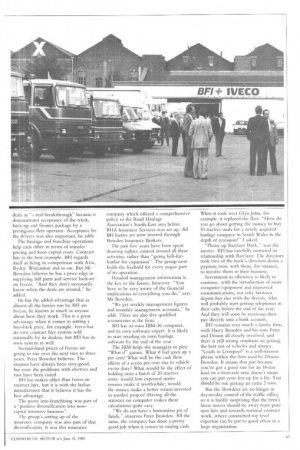 Page 67, 15th June 1985 —
GEARING UP
Close
FOR A SHIFT TO CONTRACT HIRE
Peter Bowden tells Jack Semple how BFI Group came to be one of Britain's largest private hauliers — and how that growth will continue
HE WHOLE market is going to change. People haven't woken up yet to the significance of what is going to happen.
"We've still got the 50 per cent allowances, and people are still buying because they are frightened of the effect of drag-back of tax."
Peter Bowden, a director of BFI Group, now one of Britain's largest private hauliers, enlarged on his predictions. When the full effect on capital allowances of the 1984 Budget has filtered through, there will have been a massive shift out of own-account transport, he believes. Not only contract hire, but rental and spot haulage will also benefit.
There will be opportunities for everyone in the haulage sector, according to Mr Howden, but he believes BFI is particularly well placed. BFI Group, until recently known as Bowden Freight Industries, has grown in classic style.
It was originally a London company, but now has a national network. It has grown not only within haulage, but has diversified into insurance, finance, and franchise.
While road haulage remains the main part of the business, accounting for two thirds of the £20 million annual turnover, the other activities are seen as important assets as demands in the road haulage industry change.
The business started after war ended in 1945, when Harry Bowden bought a lorry for his coal merchant firm. Substantial growth has come in the past 10 years through acquisition: J and H Transport (Nottingham) in 1975; J. C. Prout of London in 1976; Derby-based Interfresh, D and M Transport and Transbulk in 1979; J. Hughes Transport of Nottingham in 1981, after it had approached BFI; and then, in 1983, Cardiff-based Glyn John Transport from Scruttons.
The Glyn John takeover shows the way the whole business has been built up. Where there is a gap in the network, fill it; so long as there is a business opportunity which is compatible with the existing activities — usually to get back-loads — go for it.
BFI had a fair bit of traffic flowing into South Wales, but was finding difficulties in getting loads back out. Glyn John had heavy timber traffic out of Cardiff, and the acquisition helped to match traffic in and out of the area.
Sub-contractors are also used, particularly for traffic from South Wales to Scotland, which is one area where BFI has sparse coverage.
Group haulage depots are in London, Dagenham, Derby, Lydbrook in Gloucester, Felixstowe, Southampton, Manchester, Stoke, Cardiff and Tredegar. The fleet comprises 250 lorries, including 50 in the Glyn John fleet. Another 40 run on contract hire, with Cawoods being probably the bestknown customer. BFI's aim is to expand contract hire so that it equals the size of the haulage fleet.
Container traffic is an important part of the business. Because it has operations at container bases throughout Britain, it can run loaded 75 per cent of the time instead of having to return to port empty. The company also has gear at Derby and Felixstowe which can lift fully-loaded containers — saving around 8.20 on third party charges.
"We've been able to show customers genuine savings — we've not just been cutting the rates," says Peter Bowden.
BFI's latest venture has been to set up FCL — "The Freight Consortium" — with Nuttall's and Russell Davies, offering national coverage to major shipping lines. The total fleet available to FCL is put at 800 tractive units and 1,600 trailers.
One of BFI's most valued customers is British Gypsum at Derby for which it is one of handful of hauliers. Very little of the work is sub-contracted.
"That's the main reason we do so well. The sort of customers which allow sub-contractors in are the sort of customers we don't want," But Mr Bowden stresses the difference between operational sub-contracting" and subcontracting to cut rates.
"We have been undercut by people operating a team of one-man bands. But those operations are very difficult to control and administer. You tend to get involved in the owner-drivers' problems."
Legal operating is another benefit of working for companies like British Gypsum "a broad base of reputable companies". If a job cannot be done in an eight-hour driving day, vehicles will be routed and the rates adjusted accordingly.
Axle overloading on container traffic is one area where there seems to be no easy solution, however, even for careful shippers and hauliers. BFI has steered clear almost entirely of 38 tonnes, and is sticking to four-axle artics for the time being, running only a handful of threeaxle tractive units. Customers won't pay for the extra, Mr Bowden asserts.
"In tipping work, the rate per tonne is coming down. We've always been against 38 tonnes." Customers will benefit, hauliers will not, he says.
Complementary to the haulage activities, BFI now has a substantial Iveco franchise operation, with outlets in South 'East at Greenwich and Rainham, both recently expanded, and in Derby. It started with the marque 10 years ago, when Fiats were underpowered, rusted, and unpopular, but these factors are changing. In two fleet deals BFI has put 38 tractive units into Russell Davies, which until then had run only Volvo, Scania and Dal. Peter Bowden sees the deals as "a real breakthrough" because it demonstrates acceptance of the truck, back-up and finance package by a prestigious fleet operator. Acceptance by the drivers was also important, he adds.
The haulage and franchise operations help each other in terms of transfer pricing and keen capital costs. Contract hire is the best example. BFI regards itself as being in competition with Avis, Ryder, Wincanton and so on. But Mr Bowden believes he has a price edge in supplying full parts and service back-up on Ivccos. "And they don't necessarily know when the deals are around," he added.
He has the added advantage that as almost all the lorries run by BFI are lvecos, he knows as much as anyone about how they work. This is a great advantage when it comes to setting a buy-back price, for example. Iveco has its own contract hire system sold nationally by its dealers, but BFI has its own system as well.
Second-hand prices of Ivecos are going to rise over the next two to three years, Peter Bowden believes. The engines have always been very good, but now the problems with electrics and rust have been cured.
BFI has makes other than Iveco on contract hire, but it is with the Italian manufacturer that it believes it has the best advantage.
The move into franchising was part of a "positive diversification into noncapital intensive business".
The group's setting up of the insurance company was also part of that diversification. It was this insurance company which offered a comprehensive policy to the Road Haulage Association's South-East area before RHA Insurance Services was set up. All BFI lorries are now insured through Bowden Insurance Brokers.
The past five years have been spent drawing tighter control around all these activities, rather than "going hell-forleather for expansion". The group now holds the freehold for every major part of its operation.
Detailed management information is the key to the future, however. "You have to be very aware of the financial implications of everything you do," says Mr Bowden.
"We get weekly management figures and monthly management accounts," he adds. There are also five qualified accountants at the firm.
BFI has its own IBM-36 computer, and its own software expert. It is likely to start retailing its own haulage software by the end of the year.
The IBM helps the managers to play "What if' games. What if fuel goes up x per cent? What will be the cash flow effects of a seven per cent rise in vehicle excise duty? What would be the effect of holding onto a batch of 20 tractive units: would low expected maintenance make it worthwhile; would the money make a better return invested in another project? Having all the statistics on computer snakes these calculations quite easy.
"We do not have a bottomless pit of funds," observes Peter Bowden. All the same, the company has done a pretty good job when it comes to raising cash. When it took over Glyn John, for example, it replaced the fleet. "How do you go about getting the money to buy 50 tractive units for a newly acquired haulage company in South Wales in the depth of recession?" I asked.
"Phone up Barclays Bank," was the answer. BFI has carefully nurtured its relationship with Barclays. The directors took two of the bank's directors down a gypsum mine with them, for instance, to involve them in their business.
Investment in efficiency is likely to continue, with the introduction of more computer equipment and improved communications, not only between depots but also with the drivers, who will probably start getting telephones in their cabs before the end of the year. And they will soon be receiving their pay directly into a bank account.
BFI remains very much a family firm, with Harry Bowden and his sons Peter and Dennis all closely involved, and there is still strong emphasis on getting the best out of vehicles and money. "Loads to Liverpool" is a well-known phrase within the firm used by Dennis Bowden. It means that just because you've got a good rate for an 18-ton load on a four-axle artic doesn't mean you can put your feet up for a bit. You should be out getting an extra 2 tons.
But the Bowdens are no longer in day-to-day control of the traffic office, so it is hardly surprising that the firm's latest moves should be away from pure spot hire and towards national contract work, where committed top level expertise can be put to good effect in a large organisation.
Tags
Locations
:
Manchester
,
Cardiff
,
Southampton
,
Nottingham
,
London
,
Derby
,
Tredegar
,
Liverpool
,
Felixstowe
,
Gloucester
,
Stoke