BOOK REVIEWS
15th June 1985
Page 64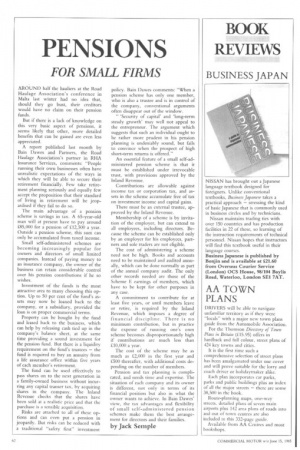 Page 64, 15th June 1985 —
BOOK REVIEWS
Close
BUSINESS JAPAN
NISSAN has brought out a Japanese language textbook designed for foreigners. Unlike conventional textbooks, Business Japanese takes a practical approach — stressing the kind of basic Japanese that is commonly used in business circles and by technicians.
Nissan maintains trading ties with over 150 countries and has production facilities in 22 of these, so learning of the instruction requirements of technical personnel. Nissan hopes that instructors will find this textbook useful in their language courses.
Business Japanese is published by Bonjin and is available at E21.60 from Overseas Courier Service (London) OCS House, 98/104 Baylis Road, Waterloo, London SE1 7AT.
AA TOWN PLANS
DRIVERS will be able to navigate unfamiliar territory as if they were "locals" with a major new town plans guide from the Automobile Association.
For the Thomson Directory of Town Plans in Britain (05.95) offers in hardback and full colour, street plans of 424 key towns and cities.
It is the first time such a comprehensive selection of street plans has been amalgamated under one cover and will prove suitable for the lorry and coach driver or holidaymaker alike. Each plan incorporates car parks, parks and public buildings plus an index of all the major streets — there are some 38,500 in the book.
Route-planning maps, one-way streets, detailed plans of seven main airports plus 142 area plans of roads into and out of town centres are also included in this 332-page guide. Available from AA Centres and most bookshops.