AUSTRALIAN HAULAGE
15th June 1985
Page 62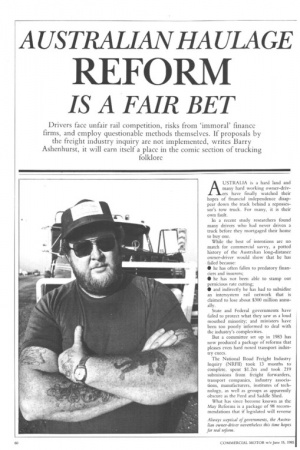 Page 63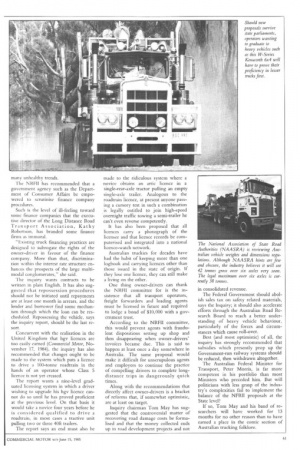 Page 62, 15th June 1985 —
AUSTRALIAN HAULAGE
Close
REFORM
IS A FAIR BET
Drivers face unfair rail competition, risks from 'immoral' finance firms, and employ questionable methods themselves. If proposals by the freight industry inquiry are not implemented, writes Barry Ashenhurst, it will earn itself a place in the comic section of trucking folklore
AUSTRALIA is a hard land and many hard working owner-drivers have finally watched their hopes of financial independence disappear down the track behind a repossessor's tow truck. For many, it is their own fault.
In a recent study researchers found many drivers who had never driven a truck before they mortgaged their home to buy one.
While the best of intentions are no match for commercial savvy, a potted history of the Australian long-distance owner-driver would show that he has . failed because: O he has often fallen to predatory financiers and insurers; • he has not been able to stamp out pernicious rate cutting; • and indirectly he has had to subsidise an intersystem rail network that is claimed to lose about $300 million annually.
State and Federal governments have failed to protect what they saw as a loud mouthed minority; and ministers have been too poorly informed to deal with the industry's complexities.
But a committee set up in 1983 has now produced a package of reforms that pleases even hard nosed transport industry execs.
The National Road Freight Industry Inquiry (NRFII) took 13 months to complete, spent $1.2m and took . 219 submissions from freight forwarders, transport companies, industry associations, manufacturers, institutes of technology, as well as groups as apparently obscure as the Feed and Saddle Shed.
What has since become known as the May Reforms is a package of 98 recommendations that if legislated will reverse many unhealthy trends.
The NRFII has recommended that a government agency such as the Department of Consumer Affairs be empowered to scrutinise finance company procedures.
Such is the level of ill-feeling toward some finance companies that the executive director of the Long Distance Road Transport Association, Kathy Robertson, has branded sonic finance firms as immoral, "Existing truck financing practices are designed to subrogate the rights of the owner-driver in favour of the finance company. More than that, discrimination within the interest rate structure enhances the prospects of the large multimodal conglomerates," she said.
The inquiry wants contracts to be written in plain English. It has also suggested that repossession procedures should not be initiated until repayments are at least one month in arrears, and the lender and borrower find some mechanism through which the loan can be rescheduled. Repossessing the vehicle, says the inquiry report, should be the last resort.
Concurrent with the realisation in the United Kingdom that hgv licences are too easily earned (Commercial Motor, November 17, 1984), the inquiry has also recommended that changes ought to be made to the system which puts a licence to drive a 100-tonne roadtrain in the hands of an operator whose Class 5 licence is not yet creased.
The report wants a nine-level graduated licensing system in which a driver wishing to upgrade his hgv licence cannot do so until he has proved proficient at the previous level. On that basis it would take a novice four years before he is considered qualified to drive a roadtrain, in most cases a tractive unit pullaig two or three 40ft trailers.
The report says an end must also be made to the ridiculous system where a novice obtains an artic licence in a single-rear-axle tractor pulling an empty single-axle trailer. Analogous to the roadtrain licence, at present anyone passing a cursory test in such a combination is legally entitled to join high-speed overnight traffic towing a semi-trailer he can't even reverse competently.
It has also been proposed that all licences carry a photograph of the licensee and that licence records be computerised and integrated into a national licence-watch network.
Australian truckies for decades have had the habit of keeping more than one logbook and carrying licences other than those issued in the state of origin. If they lose one licence, they can still make a living on the other.
One thing owner-drivers can thank the NRFII committee for is the insistence that all transport operators, freight forwarders and loading agents must be licensed in future and required to lodge a bond of $10,000 with a government trust.
According to the NRFII committee, this would prevent agents with fraudulent dispositions setting up shop and then disappearing when owner-drivers' invoiCes became due. This is said to happen at least once a day somewhere in Australia. The same proposal would make it difficult for unscrupulous agents and employers to continue the practice of compelling drivers to complete longdistance trips in dangerously quick times.
Along with the recommendations that directly affect owner-drivers is a bracket of reforms that, if somewhat optimistic, are at least on target.
Inquiry chairman Tom May has suggested that the controversial matter of recovering road damage costs be formalised and that the money collected ends up in road development projects and not in consolidated revenue.
The Federal Government should abolish sales tax on safety related materials, says the Inquiry; it should also accelerate efforts through the Australian Road Research Board to reach a better understanding of heavy vehicle behaviour, particularly of the forces and circumstances which cause roll-over.
Best (and most optimistic) of all, the inquiry has strongly recommended that subsidies which presently prop up the Government-run railway systems should be reduced, then withdrawn altogether.
The Australian Federal Minister for Transport, Peter Morris, is far more competent in his portfolio than most Ministers who preceded him. But will politicians with less grasp of the industry's complexities fail to implement the balance of the NFRII proposals at the State level?
If so, Tom May and his band of researchers will have worked for 13 months for no other reason than to have earned a place in the comic section of Australian trucking folklore.