Tribunal warns union
15th June 1985
Page 6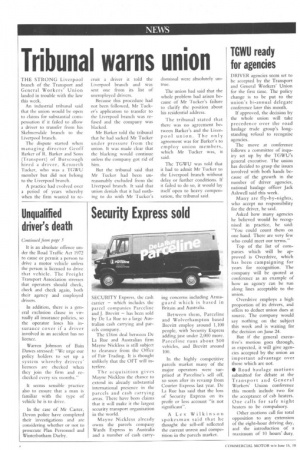 Page 6, 15th June 1985 —
Tribunal warns union
Close
Keywords :
Lancashire And Yorkshire Railway
,
International Transport Workers' Federation
,
International Union Of Food, Agricultural, Hotel, Restaurant, Catering, Tobacco And Allied Workers' Association
,
Transport And General Workers' Union
,
Workers' Union
,
Skelmersdale
,
Tucker Sedan
,
Tucker: The Man And His Dream
,
Law / Crime
,
Labor
THE STRONG Liverpool branch of the Transport and General Workers' Union landed in trouble with the law this week.
An industrial tribunal said that the union would be open to claims for substantial compensation if it failed to allow a driver to transfer from his Skelmersdale branch to the Liverpool branch.
The dispute started when managing director Geoff Barker of R. Barker and Sons (Transport) of Burscough hired a driver, Kenneth Tucker, who was a TGWU member but did not belong to the Liverpool branch.
A practice had evolved over a period of years whereby when the firm wanted to re cruit a driver it told the Liverpool branch and was sent one from its list of unemployed drivers.
Because this procedure had not been followed, Mr Tucker's application to transfer to the Liverpool branch was refused and the company was blacked.
Mr Barker told the tribunal that he had sacked Mr Tucker under pressure from the union. It was made clear that the blacking would continue unless the company got rid of him.
But the tribunal said that Mr Tucker had been unreasonably excluded from the Liverpool branch. It said that union denials that it had nothing to do with Mr Tucker's dismissal were absolutely untrue.
The union had said that the whole problem had arisen because of Mr Tucker's failure to clarify the position about his residential address.
The tribunal stated that there was no agreement between Barker's and the Liverpool union. The only agreement was for Barker's to employ union members, which Mr Tucker was, it said.
The TGWU was told that it had to admit Mr Tucker to the Liverpool branch without delay or further conditions. If it failed to do so, it would lay itself open to heavy compensation, the tribunal said.