TGWU ready for agencies
15th June 1985
Page 6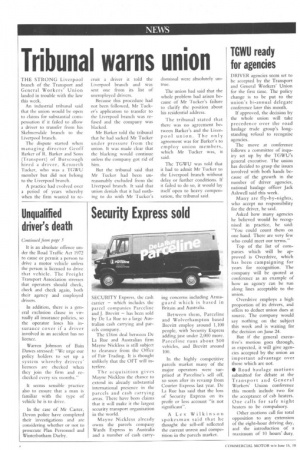 Page 6, 15th June 1985 —
TGWU ready for agencies
Close
DRIVER agencies seem set to be accepted by the Transport and General Workers' Union for the first time. The policy change is to be put to the union's bi-annual delegate conference later this month.
If approved, the decision by the whole union will take precedence over the road haulage trade group's longstanding refusal to recognise agencies.
The move at conference follows a committee of inquiry set up by the TGWU's general executive. The union has decided to grasp the issues involved with both hands because of the growth in the number of driver agencies, national haulage officer Jack Ashwell said this week.
Many are fly-by-nights, who accept no responsibility for the driver, he said.
Asked how many agencies he believed would be recognised in practice, he said: "You could count them on one hand. There are very few who could meet our terms."
Top of the list of companies which will be approved is Overdrive, which has been campaigning for years for recognition. The company will be quoted at conference as an example of how an agency can be run along lines acceptable to the union.
Overdrive employs a high proportion of its drivers, and offers to deduct union dues at source. The company would say nothing on the subject this week and is waiting for the decision on June 24.
But if the general executive's motion goes through, as expected, it will give agencies accepted by the union an important advantage over those which arc not.
• Road haulage motions submitted for debate at the Transport and General Workers' Union conference this month include two for the acceptance of cab heaters. One calls for safe night heaters to be compulsory.
Other motions call for total opposition to any extension of the eight-hour driving day, and the introduction of a maximum of 10 hours' duty.